Truex & Furniture Row: The Champs Are Here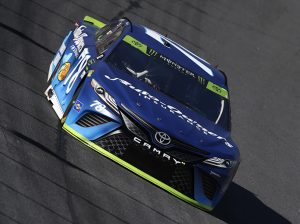 There were so many storylines associated with Martin Truex Jr. and Furniture Row Racing winning the Monster Energy NASCAR Cup Series championship that it was easy to forget the dominance the No. 78 Toyota displayed throughout the season.
Yes, the team is based far away from the Charlotte, N.C., center of the NASCAR universe in Denver, Colo.
Yes, Truex completed a career resurrection after he found himself rideless following the much-publicized race-fixing scandal, which kept him out of the playoff fight during his final season at Michael Waltrip Racing in 2013.
Yes, Furniture Row Racing team owner Barney Visser missed the championship race after undergoing emergency heart surgery prior to the penultimate race at Phoenix Int'l Raceway.
Jim Watson to a heart attack in October and crew chief Cole Pearn's best friend, Jacob Damen, passed away in August due to a bacterial infection.
But it was dominance on the race track that put Truex and his teammates in the record books, wrapping up the title with their eighth victory of the season Nov. 19 at Homestead-Miami Speedway. Three of those triumphs came during the 10-race playoffs.
"This means the world," Truex said. "Barney Visser, 11 years of working toward this goal. He couldn't be here tonight. We're thinking of him. Definitely wish he could be here. I know he's probably about as much in shock as I am. But Jim Watson, Cole's best friend, Sherry, everybody battling something, this one's for you guys."
Despite not qualifying for the championship four finale last season and all the ups and downs of a 36-race season, the team and its family never lost faith.
"Everybody is fighting something in their life, not just cancer but any kind of struggle that they're going through in their life," Pollex said "We always say if you can fight a struggle with a positive attitude and just have a smile on your face and find the good and the silver lining in everything, in the end you'll come out and karma will pay you back and good things will happen to you."
It was more than karma that saw Truex dominate at 1.5-mile race tracks, winning twice at Kansas Speedway and once each at  Home­stead, Chicagoland Speedway, Las Vegas Motor Speedway, Ken­tucky Speedway and Charlotte Motor Speedway.
Ironically, the driver of the No. 78, led 78 laps en route to winning the season-ending Ford EcoBoost 400 and the Cup Series championship.
"You know, some things are just meant to be, I guess," Truex said. "That's all you can say. Last year wasn't meant to be. We worked just as hard as we did this year and this year it just all came together. It felt right. It was our time and that's proof right there, there is a higher power."
Truex also won three poles and led 2,253 laps, while boasting an average finish of 9.4 during 36 races.
Truex joined Furniture Row Racing in 2014 and Pearn became crew chief in 2015.
"That was like the switch that flipped and me and him could see eye to eye," Truex explained. "He bought into what I was saying, I bought into what he was saying, and when they made him the crew chief in 2015, he went from being this guy behind the scenes that was really quiet to: 'This is my team, I'm going to run it the way I think I need to,' and the rest is history. I mean, really, he is the No. 1 reason, besides Barney giving him the things he needs to make our cars fast, that has transformed this team."
Truex emphasized that it's the team atmosphere that paved the way to success.
"We're a bunch of misfits, but we get along and we love racing and we work hard," he said. "We have a lot of confidence in each other and what they're doing and we all do our own thing; and it works."
Another key to Furniture Row Racing's rise to the top of the Cup Series was the switch to Toyota and an alliance with Joe Gibbs Racing, which began prior to the 2016 season.
"There's no doubt about it, we couldn't be here tonight without Gibbs and all those guys there that are part of our program and we share information with and they build our chassis and TRD building our engines, all that," Truex said. "The Toyota alliance has been amazing for our team. It without a doubt took us to the next level. We couldn't do any of this without all of that.
"But to be able to take all their stuff and beat them with it is pretty damn awesome," continued Truex, who held off JGR driver Kyle Busch during the final 34 laps at Homestead. "You know, I mean, trust me, there was years where you — as a driver I was struggling and you watch other guys dominate, and you're like: 'Man, I know I can do that. I know I can. Give me the damn chance.' That's the coolest part of it, is just showing people that you've got it, that you can do it."
Source :speedsport.com
Comments
comments