Allgaier Loses Crew Chief Ahead Of Championship Race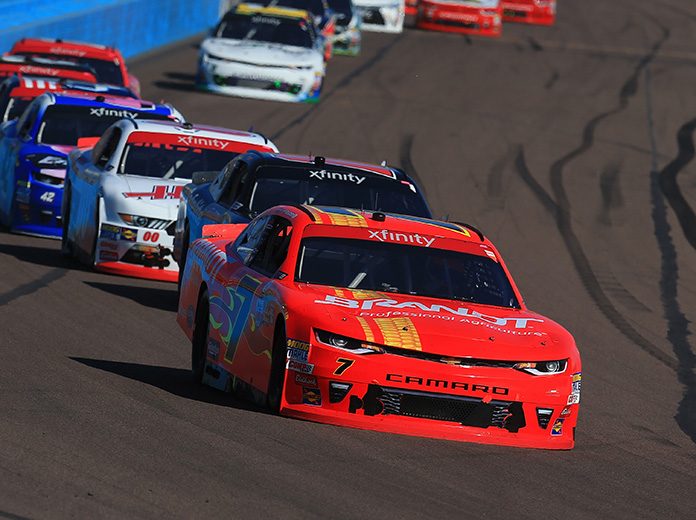 Justin Allgaier will be without his crew chief when he battles for the NASCAR XFINITY Series championship at Homestead-Miami Speedway. (NASCAR Photo)
DAYTONA BEACH, Fla. – NASCAR XFINITY Series championship contender Justin Allgaier will be without his crew chief when he chases the series championship next Saturday at Homestead-Miami Speedway.
NASCAR announced Monday that Allgaier's crew chief Jason Burdett has been fined $10,000 and suspended for the final race of the NASCAR XFINITY Series season, the Ford EcoBoost 300, following a rules violation during last Saturday's race at Phoenix Raceway.
NASCAR officials said Burdett and the JR Motorsports tea were penalized for an illegal rear brake cooling assembly. Per the NASCAR Rule Book, Section 20.15.2.2, rear brake cooling assemblies must be sealed from air inlet to exhaust. The infraction was discovered during post-race inspection.
Allgaier's 10th-place finish in Saturday's Ticket Galaxy 200 at Phoenix Raceway has been ruled encumbered and the team also lost 10 driver and owner points. Neither penalty will affect Allgaier's championship eligibility.
Allgaier is one of three JR Motorsports drivers attempting to win the NASCAR XFINITY Series championship on Saturday. He'll be joined by teammates Elliott Sadler and William Byron as well as Richard Childress Racing driver Daniel Hemric.
Source :speedsport.com
Comments
comments