AAA Sticking With Team Penske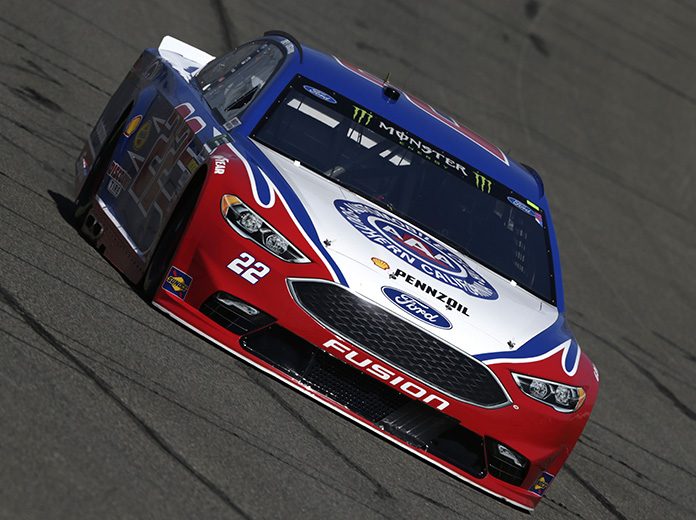 AAA will remain as a sponsor of Team Penske through a new multi-year agreement. (HHP/Gregg Ellman Photo)
MOORESVILLE, N.C. – The Auto Club of Southern California and AAA will continue as a primary sponsor of the No. 22 Team Penske Ford and Joey Logano in the Monster Energy NASCAR Cup Series.
The multi-year extension with Team Penske follows an announcement earlier this year that Logano will remain as driver of the No. 22 Ford through 2022.
Through the partnership with Team Penske, AAA will continue its primary sponsorship of the No. 22 Ford Fusion driven by Logano for three races over the next several seasons, including the events at Auto Club Speedway in March, Kansas Speedway in May and Texas Motor Speedway's playoff event in November.
"AAA has been a great partner for Team Penske over the years and it's been an honor to represent them since I joined Team Penske," said Logano. "Being passionate about cars, I don't just carry the AAA colors on Sunday afternoon – I'm a proud, card-carrying member of the AAA and I've used their award-winning road side assistance on more than one occasion. It's great that they'll continue to be such a big part of our program going forward."
In addition, AAA will continue as a full-season associate sponsor for Logano and the No. 22 Ford team.
"Our relationship with AAA and the Auto Club has been an important one that dates back to our years when we owned California Speedway," said team owner Roger Penske. "We are excited that we are able to continue on with the successful partnership that we have established with such a great group of people and the thousands of members they represent. They have been terrific partners and cornerstones in our success across the board. We look forward to many more winning seasons together into the future."
"The Auto Club and Penske have been long-time partners, not just on the race team but in many other aspects of our businesses that brings value to our members. We look forward to continuing our strong relationship with Team Penske for many more years to come," said John Boyle, President and CEO of the Automobile Club of Southern California.  "Our organization's mission is to deliver legendary service and valuable products to our members, a philosophy shared by the Penske organization.  Motorsports has proved to be an effective place for us to promote our Insurance products, and Team Penske's high level of performance is a perfect fit."
Source :speedsport.com
Comments
comments