Lapcevich Claims Finale, Labbe Crowned Pinty's Champ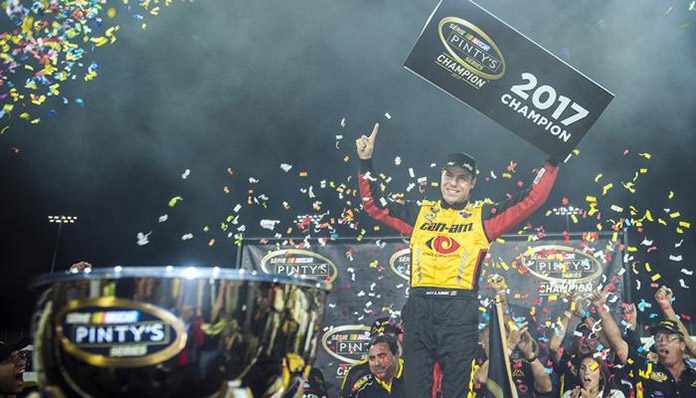 Alex Labbe celebrates after clinching the NASCAR Pinty's Series championship on Saturday night. (NASCAR Photo)
HAGERSVILLE, Ontario – After 13 races that took the series to five different provinces, it was only fitting a champion was crowned at the birthplace of NASCAR in Canada.
Following the Pinty's Fall Brawl at Jukasa Motor Speedway, Alex Labbe claimed his first NASCAR Pinty's Series championship by 16 points over rival Kevin Lacroix.
The 24-year-old from Victoriaville, Quebec, finished the year with five wins, 11 top fives and 12 top 10s. Tallying up 542 points, Labbe claims the highest honor in Canadian stock car racing, the NASCAR Pinty's Series championship.
Following his championship season, Labbe announced his intentions to run full time in NASCAR's XFINITY Series in 2018.
Labbe only had to start to clinch the title. Labbe started the 200-lap feature from second before retiring from the race on lap 62 with suspension issues, which resulted in a 20th-place finish.
The Pinty's Fall Brawl lived up to its name and was not without its drama. Late race contact between Cayden Lapcevich and D.J Kennington culminated in Lapcevich executing a bump and run pass to Donald Theetge in the final corner to claim victory at Jukasa. The 2016 Pinty's Series champion lead only three laps to score his third win of the season and the sixth of his career.
Second place finisher Donald Theetge led 134 laps throughout the race, to tie his best career NASCAR Pinty's Series finish. LP Dumoulin snuck home to a third place, his third podium of the season.
Kevin Lacroix and J.F. Dumoulin rounded out the top five.
The finish:
Cayden Lapcevich, Donald Theetge, L.P. Dumoulin, Kevin Lacroix, J.F. Dumoulin, Alex Tagliani, Larry Jackson, Donald Chisholm, Noel Dowler, Andrew Ranger, Brandon White, Brad Graham, Armani Williams, Trevor Monaghan, Anthony Simone, Martin Cote, D.J. Kennington, Mark Dilley, Adam Martin, Alex Labbe.
Source :speedsport.com
Comments
comments