Day And Delsaux On The Pole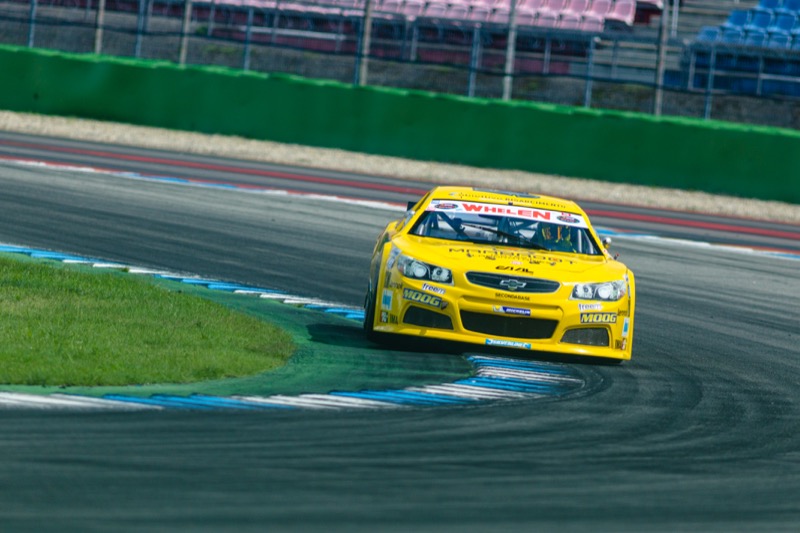 Alon Day stormed to a spectacular pole position in the inaugural American Fan Fest at the iconic Hockenheimring in the ELITE 1 Division, while Ulysse Delsaux took first place in a nail biting ELITE 2 Division Superpole session. NASCAR Whelen Euro Series / Stephane Azemard
Day And Delsaux On The Pole
First Pole Of The Season For The Israeli, First Career Pole For The Frenchman
Alon Day (#54 CAAL Racing Chevrolet SS)  stormed to a spectacular pole position in the inaugural American Fan Fest at the iconic Hockenheimring in the ELITE 1 Division, while Ulysse Delsaux (#3 Tepac RDV Compétition Toyota Camry) took first place in a nail biting ELITE 2 Division Superpole session.
Day put his past experience on the German track to good use to clock a 1:31.825 lap around the 3.692 Km course that granted him a .266 advantage over points leader Borja Garcia (#6 Racers Motorsport Ford Mustang) and took his first pole of the season. Due to a 10-position penalty from the previous road course event of the season, Day will have to start from the fifth row, making the ELITE 1 Round 7 even more exciting for the crowd and giving Garcia the first place on the grid.
After grabbing the inaugural pole position at the legendary circuit, Day said, "The weekend is starting off great and I'm honored to claim the first pole position for NASCAR at this incredible race track.  The car was great in practice yesterday and the Caal Racing Team did an excellent job preparing the car for this weekend's races.  Unfortunately, I'll have to move back a few rows to the 11th starting position when we take the green flag today after receiving a previous penalty earlier this season at Brands Hatch.  Fortunately for me, the track is wide enough to overtake in quite a few places so, I'm gonna be patient at the start of the race, especially for the first turn, drive a clean race and try to make my way to the front to claim a spot on the podium.  It won't be easy.  We have a lot of really great drivers in the NASCAR Whelen Euro Series and they are fierce competitors.  Today, I need to focus on the Championship.  I'm looking for a good finish and maybe win the pole for tomorrow's race.  If I can do that today, I'll be in a good position to hopefully win tomorrow's race and celebrate with my awesome CAAL racing team in victory lane!"
Reigning Champion Anthony Kumpen posted the third fastest time, ahead of Frederic Gabillon (#3 Tepac RDV Compétition Toyota Camry) and Salvador Tineo Arroyo (#56 CAAL Racing Chevrolet SS), who led the Junior Trophy on Gianmarco Ercoli (#9 Racers Motorsport Ford Mustang). Lucas Lasserre (#95 Dog Racing Ford Mustang) was a solid seventh fastest, while Christophe Bouchut (#66 DF1 Racing Team Chevrolet SS), Freddy Nordstrom (#44 CAAL Racing Chevrolet SS) and illustrious newcomer Dominik Farnbacher (#33 Mishumotors Chevrolet SS) rounded out the top-10.
Fabrizio Armetta (#41 The Club Motorsport Ford Mustang) returned to the NASCAR Whelen Euro Series taking the lead in the Challenger Trophy in 14th place.
In the ELITE 2 Division Ulysse Delsaux (#3 McDonald's RDV Compétition Ford Mustang) topped an exciting superpole session and took his first ever pole position in the closing stages beating rookie Maciej Dreszer (#66 DF1 Racing Team Chevrolet SS) by a mere .049 seconds and fresh back-to-back winner Felipe Rabello by just .060 seconds.
After celebrating his first pole position with his family and fans, an exuberant Delsaux said, "Wow, this is really great and very special to me.  I have to thank my team for preparing such a fast car.  I think we have a good opportunity for a great podium finish today.  When I heard I won the pole, I thought about all the great championship-winning race car drivers that have raced here at Hockenheim.  We're focused on our championship season too and I am super happy to say that I claimed my first pole positions here at Hockenheim!"
The top-5 was separated by just 0.265 and was closed by Raceway Venray pole sitter Guillaume Dumarey (#24 PK Carsport Chevrolet SS) and points leader Thomas Ferrando (#37 Knauf Racing Team Ford Mustang).
Nicky Petersend (#46 Racing Total Chevrolet SS) returned to NWES with a sixth place, while Martin Doubek (#5 Renauer Motorsport Toyota Camry), newcomer Jean Baptiste Simmenauer, Eric De Doncker (#98 Motorsport 98 Ford Mustang) – The Belgian also led the Legend Trophy – and Paul Guiod (#73 Knauf Racing Team Ford Mustang) rounded out the top-10.
Carmen Boix Gil (#1 Alex Caffi Motorsport Ford Mustang) was fastest in the Lady Cup Classification.
Source :http://hometracks.nascar.com
Comments
comments