Burton Back With KBM For Expanded Truck Slate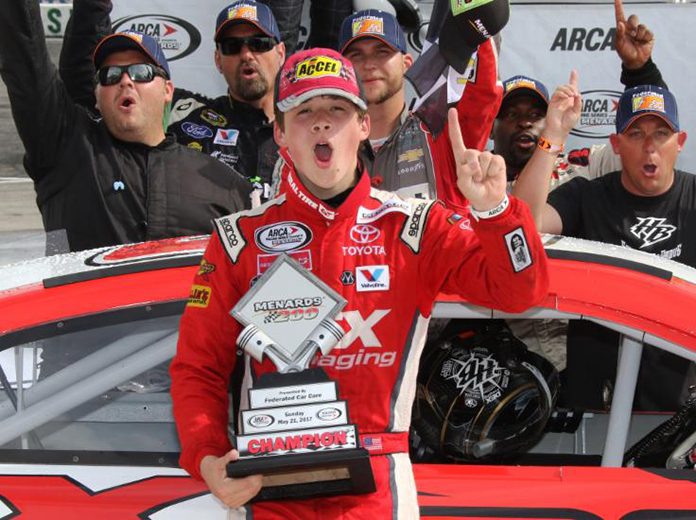 Harrison Burton is slated to enter nine NASCAR Camping World Truck Series events for Kyle Busch Motorsports in 2018. (ARCA Photo)
MOORESVILLE, N.C. – Reigning NASCAR K&N Pro Series East champion Harrison Burton will return to Kyle Busch Motorsports for an expanded NASCAR Camping World Truck Series schedule.
Burton will drive the No. 51 Toyota Tundra in nine Truck Series events this year, beginning with the race at Martinsville (Va.) Speedway on March 24.
Burton, the son of former NASCAR driver and current television analyst Jeff Burton, made his Truck Series debut with KBM at Martinsville in October of 2016 and enters 2018 with seven Truck Series starts under his belt. He made six Truck starts in 2017, earning a best finish of fourth last October at Martinsville.
The XX-year-old driver captured the NASCAR K&N Pro Series East championship last year with five wins and also won his first ARCA Racing Series event in his only start of the season at Toledo (Ohio) Speedway.
He also collected the super late model championship during the 51st Annual World Series of Asphalt at Florida's New Smyrna Speedway. He also won the super late model portion of CRA SpeedFest at Georgia's Crisp Motorsports Park and won a CARS Super Late Model Tour event at Concord (N.C.) Speedway.
"Harrison made great strides as a driver in 2017 and we look forward to being a part of his continued development by expanding his schedule at KBM in 2018," said team owner Kyle Busch. "He proved capable of winning races in a variety of series last year and with each Truck Series start you could see his confidence grow and his performance improve. We're confident that his first Truck Series win is just around the corner."
"Returning to KBM and knowing that they had the confidence in me to add races to my schedule for this year is a huge honor," Burton said. "KBM has a developed a culture of winning races and I'm confident that everything I learned throughout my six-race schedule last year has helped me be prepared to carry on the winning tradition this year."
Burton's schedule will include both races at Martinsville Speedway in addition to events at Dover (Del.) Int'l Speedway, Iowa Speedway, Bristol (Tenn.) Motor Speedway, Canadian Tire Motorsport Park, the November event at Texas Motor Speedway, ISM Raceway and the season finale at Homestead-Miami Speedway.
Burton's crew chief and sponsors will be announced at a later date.
Source :speedsport.com
Comments
comments