Double podium for Tiago Monteiro in Vila Real Portuguese driver takes back the lead in the FIA WTCC world championship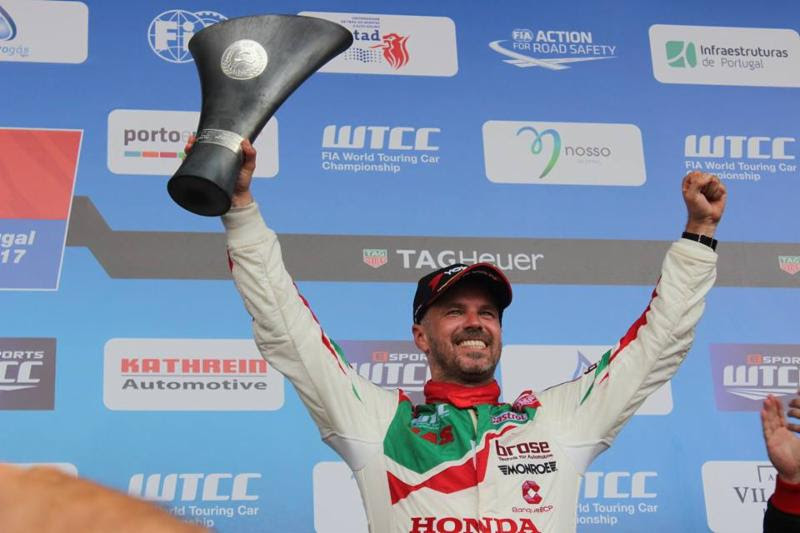 Tiago Monteiro was one of the main contenders of the FIA WTCC World Touring Car Championship in Vila Real over the weekend. The Portuguese driver managed to stand on the podium in both events with a second place in the first race and a third in the second. Two excellent results due to the level of performance displayed not only by the driver but also by an excellent strategy initiated at the beginning of the weekend. Therefore Tiago managed to do exactly as he had hoped to do this weekend, reclaim the lead of the world championship as he leaves Europe for the last six races of the championship, which will take place in America and Asia.
Seventh on the grid for the opening race of the weekend, Tiago made a brilliant start which put him up into fourth place. After that he chose the perfect moment to perform the "joker lap", where drivers must take an alternate route once per race, putting him up into second place where he stayed until the checkered flag. In the main race, Tiago took the start in fourth position and after displaying calmness and dexterity, managed to avoid an opponent who stalled in front of him. With this excellent start, he took third place to secure his second podium of the day. Nevertheless, Tiago tried to play with the "joker lap" to gain positions once again, however this time around he wasn't successful. At the end of the day, these 2nd and 3rd places tasted like victory for the fans at Vila Real, who celebrated their favorite driver's results with a passion normally reserved for the victor.
"It's really great to race here. It is a great joy to contribute to this fantastic festival. I always leave Vila Real with a really good feeling," said Tiago. "Everything went perfectly, especially in the first race: the start, which was risky, but which bore fruit, then the" joker lap "right at the perfect moment. In the main race, I managed to take advantage of an opponent's mistake in front of me, which allowed me to recover a position. I tried my hardest to do even better, but the pace was very fast and the "wildcard" did not give the desired effect the second time around," said Tiago.
Thanks to these superb results, Tiago has recovered first place in the championship, a position he hopes not to lose again. "We needed this result to come back. If we want to be champions, we must keep this position to the end so we can achieve our goals. We secured a great result in Vila Real, perhaps better than we expected, especially after qualifying. The decision to implement the "joker lap" was fantastic. This allowed us not only to win positions on a circuit that is difficult to overtake on but it also delighted the fans. Now, we must continue to move forward and not lose sight of our goal. We have all noticed that our rivals are tough and won't give up. But nor will we" concluded Tiago who is now heading to Argentina for the next round of the FIA WTCC which will take take place on the Circuito Termas de Río Hondo
Comments
comments