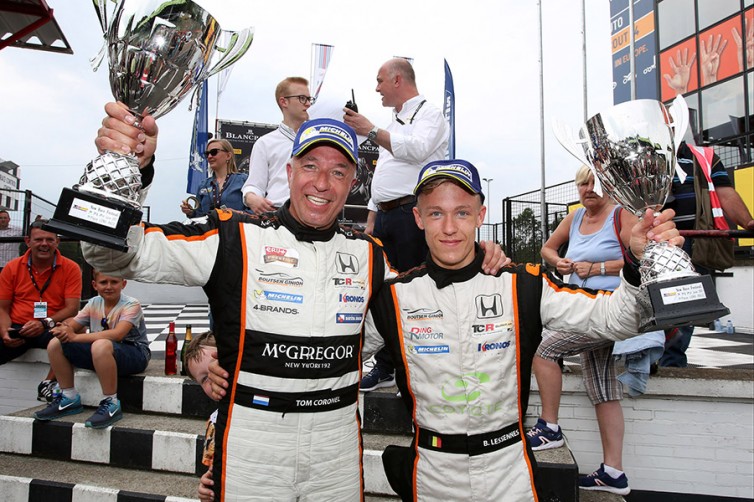 The Boutsen Ginion Racing duo of Tom Coronel and Benjamin Lessennes made a clean sweep in the third race meeting of TCR Benelux at Zolder.
At the wheel of their Honda Civic car, the experience Dutchman and the Belgian teenager won Saturday's Qualifying race and all four Sprint races on Sunday, scoring the maximum of 125 points. Something than no one had been able to achieve since the series was launched in 2016.
These results propelled Lessenes on top of the standings with a margin of 21 points over the previous leader Guillaume Mondron (Delahaye Racing); Coronel climbed to third a further 19 points adrift, while the pairing of Aurélien Comte and Kevin Abbring is surprisingly lying fourth with their DG Sport Peugeot 308.
On Saturday, Lessennes and Coronel took a comfortable victory in the Qualifying Race, ahead Potty-Detry and Dejonghe-Dupont. Both, the Audi of Comini-Vervisch (tyre problems) and the Volkswagen of Altoè-Caprasse (overheating) retired.
Race 1 – Altoé did not make the grid due to a water leak following an engine change. Abbring made the best start and led for two laps before giving way to Coronel. On lap 3 the Peugeot driver dropped to fourth behind Potty and Dejonghe. Potty tried to chase Coronel, but in the final part of the race the Dutchman increased his pace, set the fastest lap and built a small margin to secure victory.
Race 2 – Coronel took the lead at the start followed by Abbring, Potty and Dejonghe. On lap 3 Potty overtook Abbring for second, but Coronel had already built a safe margin. Potty settled for second, while Abbring managed to defend his third position from Dejonghe. For the whole race Comini was able to keep Guillaume Mondron at bay and was classified fifth.
Race 3 – Lessennes sprinted from the pole and led from Dupont, and Vervisch. The first three positions froze, while Edouard Mondron, Comte and Detry delivered a great fight for fourth and finished in the order.
Race 4 – Once again Lessennes was able to take the lead at the start, while Vervisch and Comte overtook Dupont, moving up to second and third respectively. Moments later Comte and Vervisch made contact and the latter dropped to fourth behind Dupont. Eventually, Vervisch stopped on the track with a broken driveshaft; soon afterwards Caprasse (pierced radiator) and Dupont (overheating) were also forced to retire, which promoted Edouard Mondron to third behind Lessennes and Comte.
The next rounds of the TCR Benelux Series will be on 15/16 July at Zolder again.
Comments
comments