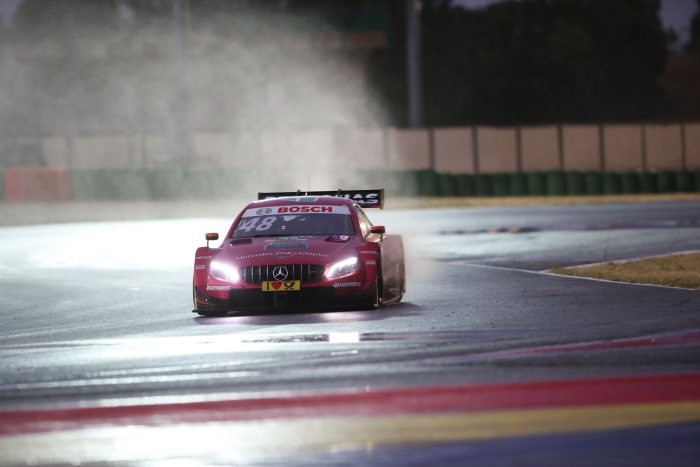 Second night race, second podium: Edoardo Mortara books P2 in a chaotic race
Edoardo Mortara (SILBERPFEIL Energy Mercedes-AMG Motorsport) finishes on the podium in his home race for fifth time this season and for the 27th time in his DTM career as he takes P2
Paul Di Resta (Mercedes-AMG Motorsport REMUS) secures sixth place and P1 in the drivers' standings
Apart from leading the drivers' classification, Mercedes-AMG Motorsport still head the team and manufacturers' rankings
Edoardo Mortara: "Unfortunately, I was unlucky with the safety car today, but that's part of racing. Of course, I wanted to win in Italy, but nevertheless, I'm still happy with my race weekend."
Ulrich Fritz: "That was a very chaotic race that leaves us with mixed feelings just like yesterday."
The DTM celebrated its premiere this weekend at the Misano World Circuit Marco Simoncelli with two spectacular night races. After taking a win and third place on Saturday, Mercedes-AMG Motorsport clinched another podium in the second night race in DTM history on Sunday, securing the brand's 560th podium in their 30 years of contesting the DTM in the process. Edoardo Mortara (SILBERPFEIL Energy Mercedes-AMG Motorsport) took another podium after finishing third on Saturday. Second place brought him his fifth podium of the season in his home race at Misano and the 27th of his DTM career.
This was the team's 24th podium of the year. After contesting 14 of this season's 20 races, Mercedes-AMG Motorsport have so far taken at least one victory and one pole position at each of the seven tracks where racing has taken place.
Saturday's winner Paul Di Resta (Mercedes-AMG Motorsport REMUS) continued his series of points-scoring finishes and booked P6. As a result, the Scot (186 points) now leads the drivers' standings from team-mates Gary Paffett (177 points) and Edoardo Mortara (138 points).
Pascal Wehrlein (Mercedes-AMG Motorsport PETRONAS) finished the 14th round of the season under Misano's floodlights in 12th place. Gary Paffett (Mercedes-AMG Motorsport PETRONAS) took the chequered flag in 14th position and Daniel Juncadella (Mercedes-AMG Motorsport REMUS) came home in P17. In tough weather conditions, Lucas Auer (SILBERPFEIL Energy Mercedes-AMG Motorsport) span off track into the gravel bed about half-way through the race and had to retire.
Apart from leading the drivers' classification, the brand with the three-pointed star also head the team and manufacturers' rankings. In the team competition, Team Mercedes-AMG Motorsport PETRONAS (269 points) are at the top of the table with 21 points ahead of Team SILBERPFEIL Energy Mercedes-AMG Motorsport (248 points). In the manufacturers' standings, Mercedes-AMG (761 points) are in first place with a lead of 319 points on BMW (442 points).
The next race weekend: After three races in other European countries, the DTM returns to Germany on the weekend of 7th – 9th September. That's when the legendary Nürburgring will be hosting Rounds 15 and 16 of the 2018 championship.
Comments after the race
Edoardo Mortara (31, Italy):
P2
Car number: 48
Team: SILBERPFEIL Energy Mercedes-AMG Motorsport
Car: Mercedes-AMG C 63 DTM
"Unfortunately, I was out of luck with the safety car today, but that's all part of racing. Things like that can happen. At the end of the day, though, I've made two podium appearances in my home fixture at Misano. I really wanted to win in Italy of course, but regrettably that wasn't to be. Anyway, I'm still satisfied with the race weekend. There were no problems today, and I had really good pace. My car was superbly competitive in the race, and that fills me with confidence for the rest of the season."
Paul Di Resta (32, Scotland):
P6
Car number: 3
Team: Mercedes-AMG Motorsport REMUS
Car: Mercedes-AMG C 63 DTM
"Today wasn't the easiest of days, but all that ultimately counts is the fact that I've taken the lead in the championship with six races to go to the end of the season. Unfortunately, my first set of rain tyres set me back in qualifying so that I had to return to the pits around the midway point. I was then unable to get the replacement set up to temperature. I have mixed feelings overall, but I can see the positive side. Many thanks to my team who prepared the car so brilliantly in such a short time. That's the way it's going to be from now on. Hopefully, things will work out just as well next time, because my car functioned superbly in all conditions."
Pascal Wehrlein (23, Germany):
P12
Car number: 94
Team: Mercedes-AMG Motorsport PETRONAS
Car: Mercedes-AMG C 63 DTM
"That was, unfortunately, not a good way to conclude our first race weekend at Misano. P11 on the grid was certainly not ideal, but in such a chaotic race, all things are possible even from the sixth row. Unfortunately, it was not meant to be today. Still, I'll focus on what was positive from this weekend, like my mega charge up the field in the first race, and hope to have a better weekend again at the Nürburgring."
Gary Paffett (37, England):
P14
Car number: 2
Team: Mercedes-AMG Motorsport PETRONAS
Car: Mercedes-AMG C 63 DTM
"That was such a disappointing race. I had actually been intending to score a lot of points today. The conditions were difficult, but as a team, we made too many wrong decisions, which has cost us dearly. We need to learn lessons from this and make sure we do better in the next few races."
Daniel Juncadella (26, Spain):
P17
Car number: 23
Team: Mercedes-AMG Motorsport REMUS
Car: Mercedes-AMG C 63 DTM
"Unfortunately, it was one of those races that are best forgotten as far as I'm concerned. I cannot remember a race as bad as this at any point in my career. At the beginning, everything was still going fine, and I felt in good shape. I was in second place behind Edo, and we were on course for a potential one-two finish. Unfortunately, we pitted too early, because it started raining again shortly after. That was a disaster for me. Then I collided with Gary, which was clearly my fault. I feel very sorry for the team, because we deserved a much better result today."
Lucas Auer (23, Austria):
DNF
Car number: 22
Team: SILBERPFEIL Energy Mercedes-AMG Motorsport
Car: Mercedes-AMG C 63 DTM
"Sorry, I have to apologise to my team for today. I lost control of the car and ended up in the gravel bed. It was one hundred percent my fault. There's not much more I can say."
Ulrich Fritz, Head of Mercedes-AMG Motorsport DTM:
"That was a very chaotic race that leaves us with mixed feelings just like yesterday. While we are, of course, pleased with Edo's second place, we made too many mistakes today that stopped the team as a whole turning in a better performance. Starting with the problems surrounding Gary's pit stop, and then the driving errors and crash by one of our drivers, these are all things that should not happen. We will, though, have to analyse exactly how the various incidents came about, and it's important that we do that. All things considered, we can definitely be satisfied with the Misano race weekend. We took P1 and P3 yesterday and second place today, achieving each of those successes under extremely difficult conditions. We can build on that."
Race results: Top Ten
| | | | |
| --- | --- | --- | --- |
| Pos | Driver | Manufacturer | Time |
| 1 | Joel Eriksson | BMW | 57:19.154 |
| 2 | Edoardo Mortara | Mercedes-AMG | +01.817 |
| 3 | René Rast | Audi | +06.493 |
| 4 | Robin Frijns | Audi | +16.879 |
| 5 | Alessandro Zanardi | BMW | +47.316 |
| 6 | Paul Di Resta | Mercedes-AMG | +59.802 |
| 7 | Loic Duval | Audi | +1:10.232 |
| 8 | Jamie Green | Audi | +1:12.162 |
| 9 | Mike Rockenfeller | Audi | +1:21.814 |
| 10 | Nico Müller | Audi | +1:25.646 |
Drivers' Championship
| | | | |
| --- | --- | --- | --- |
| Pos | Driver | Manufacturer | Points |
| 1 | Paul Di Resta | Mercedes-AMG | 186 |
| 2 | Gary Paffett | Mercedes-AMG | 177 |
| 3 | Edoardo Mortara | Mercedes-AMG | 138 |
| (…) | | | |
| 5 | Lucas Auer | Mercedes-AMG | 110 |
| (…) | | | |
| 8 | Pascal Wehrlein | Mercedes-AMG | 92 |
| (…) | | | |
| 10 | Daniel Juncadella | Mercedes-AMG | 58 |
Manufacturers' Championship
| | | |
| --- | --- | --- |
| Pos | Manufacturer | Points |
| 1 | Mercedes-AMG | 761 |
| 2 | BMW | 442 |
| 3 | Audi | 295 |
Teams' Championship
Comments
comments