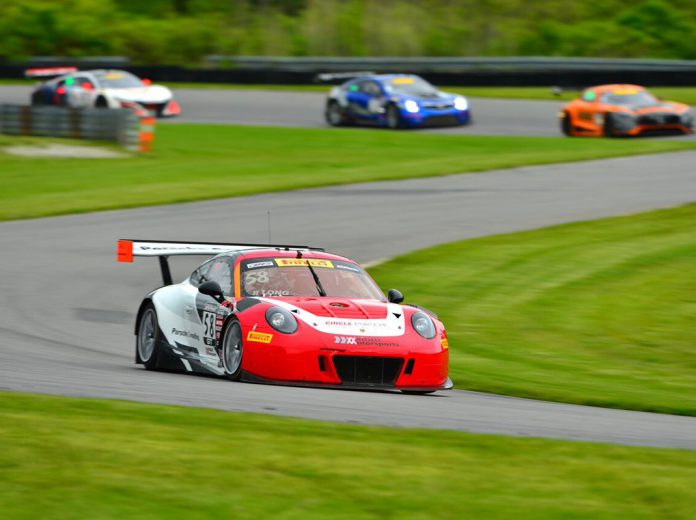 Patrick Long had a career year to score a pair of Pirelli World Challenge championships in 2017. (PWC Photo)
AUSTIN, Texas – Patrick Long entered the Pirelli World Challenge season with redemption on his mind.
In the previous year, the veteran Porsche racer from Manhattan Beach, Calif., lost the GT class title on the last lap of the final race of the season.
Unusual circumstances on that final circuit at Mazda Raceway Laguna Seca took Long from a potential title run to a tough runner-up finish with just six turns remaining.
But Long, the 2011 Pirelli World Challenge GT champion, set his sights on all three GT championships this year with the Sprint, SprintX and Overall crowns up for grabs in his No. 58 Wright Motorsports Porsche 911 GT3 R. He came close to scoring all three titles by the final GT weekend at Sonoma Raceway.
In the 19 GT Sprint and GT SprintX events, Long collected four wins, six runner-ups and three third-places in his trek to the overall championship over Cadillac's Michael Cooper, the 2017 SprintX champion, and McLaren's Alvaro Parente, the 2016 GT champion. In addition to the two GT titles, Long led his Wright Motorsports effort to the GT team honors and Porsche to the Manufacturers crown.
"I'm very proud to close out the Sprint Championship and the team championship Sunday at Sonoma Raceway," said Long. "For the fans, with multiple championships, it was important to capitalize on trying to secure as many championships as possible to leave a stamp on 2017 after quite an eventful 2016. My second championship has been a bit of a long wait but certainly it's much sweeter because the PWC championship has a ton of factory teams and drivers in it. It really is evolving and it's a proud moment for me to race against some of these guys that have huge CVs and respect internationally in sportscars."
Long's quest for the overall GT series title began in the opening weekend with a strong performance in the streets of St. Petersburg, Fla., with a victory and third place in the GT doubleheader. He also recorded wins in the GT race at Road America and two SprintX events (two-driver, 60-minute feature) at Lime Rock Park (with Mark Lieb) and Circuit of the Americas (COTA with Jörg Bergmeister).
But it might have been Long's other nine podium finishes that help take him to the coveted GT honors.
"I found a championship that was stripped out of my hands in the last half lap last year based on some errors from a car ahead of me," said Long regarding the 2016 season finale. "I made a decision to play it a little bit safe through the mid-race and let the doors stay open for me in the last weekend this time. Any given Sunday you can have a different winner and I think that's unique for Pirelli World Challenge. I love being here. I've raced a lot of different championships for Porsche and I really have found a home here. To be a champion overall, it's been a long wait since we had our last championship in 2011."
After competing in a variety of sports car series around the world, Long returned to the Pirelli World Challenge in 2016 and nearly scored his second PWC title despite racing for two separate operations. In 2017, things were more consistent for Patrick with his small but impressive Wright Motorsports team against some of the best sports car racers in the world.
"We all have stories to tell about adversity and attrition, especially through SprintX, which was new this year and caught a lot of us off guard with how much battling and contact there was with drivers that may not have been in the full championship," Long admitted.  "But that's what makes the fans turn out for the race. All over the world they talk about Europe racers being aggressive, but I would say the first lap in GT racing makes for a scenario where you have to tune in every weekend because you can't even guess the scenarios that are going to play out."
Source : speedsport.com
Comments
comments