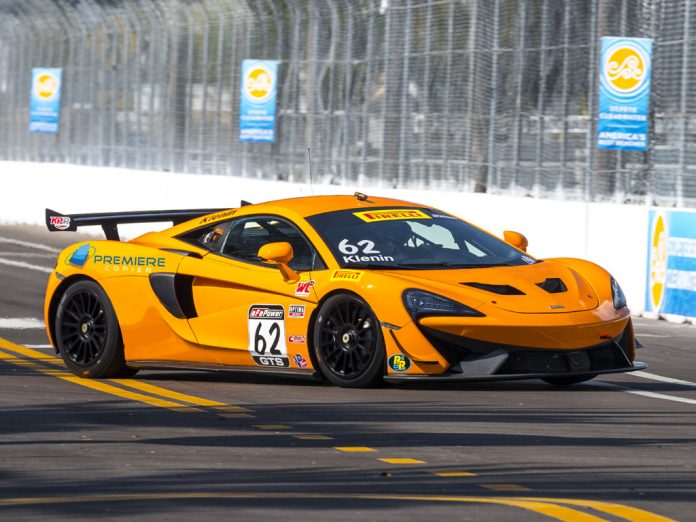 AUSTIN, Texas – KRP Racing officials announced that its racing team will field the No. 62 McLaren 570S for driver Mark Klenin in the GTSA division in the 2018 Pirelli World Challenge road racing series.
Klenin, entering his seventh season with PWC, comes to the 2018 campaign in the potent McLaren 570S with a new Canadian-based crew with vast GTS experience. Jackson Stewart also will return as team manager for KRP Racing.
In 2017, Klenin scored a class win at Lime Rock Park last month as well as numerous podium finishes while placing third in the final GTSA point standings.
"We are very excited to return to the Pirelli World Challenge with our McLaren 570S and our new partner, Premiere Copier," said Klenin. "We won one race and finished on the podium several times. Now, we have revamped our McLaren operation with a solid crew.  We now expect to challenge for the GTSA title in 2018."
The McLaren marque has been successful in PWC in the past and now enters the series for a fifth year in 2018 after Alvaro Parente took the marque to the 2016 GT championship and George Kurtz won the 2017 GTSA title for the British manufacturer.
"We are pleased to be back with McLaren for another year as the car has been a winner in 2017 and it should be a top contender again in 2018," said Klenin, who made his pro racing debut with PWC in 2012. "Plus, we are bringing in Premiere Copier as a partner and we hope to put them in victory lane in 2018. I want to thank Tod North and the entire Premiere Copiers crew. And we'll bring another driver to assist on the SprintX two-driver races too. I'm really pumped up for the Pirelli World Challenge series."
Premiere Copier, established in 1993, is based in Englewood, Colo., and has distribution throughout the western portion of the United States, from Missouri to California.
"Mark has been an important member of the Pirelli World Challenge paddock for several years now and it was great to see Mark as a top contender for the GTSA point title last year," said Greg Gill, President/CEO of the Pirelli World Challenge. "We wish all of the best in his quest for the GTSA championship in 2018."
At age 56, Klenin started his racing career later than most, but the Colorado racer has improved each year in the GTSA division. Now he has developed a strong contingent for a title run this year.
"I am working harder than ever to get ready for the 2018 series," said Klenin. "I've been in the gym six days a week with trainer Jeffrey Armstrong and driving karts during the off-season. I know I won't give up in my pursuit of the GTSA class title. We have put together a strong operation for this year and we'll be ready when the green flag drops at St. Petersburg in March."
Source : speedsport.com
Comments
comments