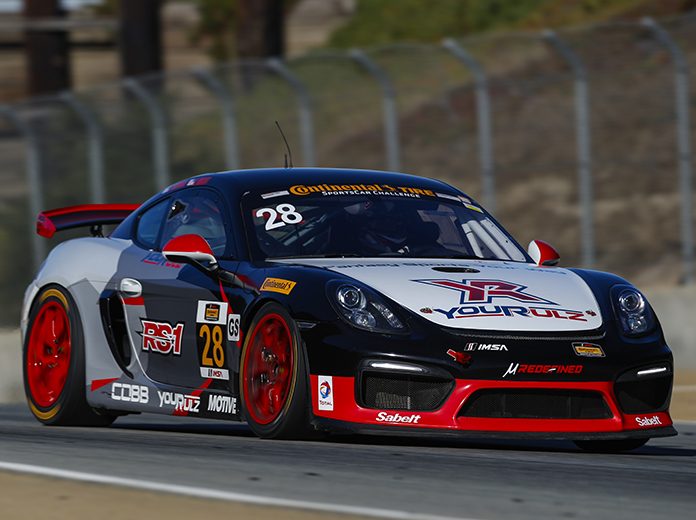 Dillon Machavern and Dylan Murcott captured the IMSA Continental Tire SportsCar Challenge Grand Sport championship this year. (IMSA Photo)
DAYTONA BEACH, Fla. – No matter how you spell it, Dillon and Dylan are IMSA Continental Tire SportsCar Challenge champions.
Dillon Machavern and Dylan Murcott, a young-gun, small-town duo, arrived on the Grand Sport championship scene midway through the season in the No. 28 RS1 Porsche Cayman GT4 MR. Not only was this the first season for the RS1 team in the GS class after winning the 2016 Street Tuner championship, it also was the first full season for both drivers in the Continental Tire Challenge.
"Obviously RS1 was successful last year with the ST program, so it was just a natural path to move up," said Machavern, who currently lives in Charlotte, Vt. "There was definitely some pressure to perform because of how well they did, even being a relatively new team in ST, but we knew we had a solid team behind us and that our driver pairing was going to be strong."
Machavern and Murcott were far from strangers when they were slotted into the driver lineup together. The two were paired for a ST effort with Mitchum Motorsports in 2014, the same year Machavern won the Lamborghini Super Trofeo Am championship and one year prior to Murcott claiming the Lamborghini Super Trofeo Gallardo championship.
It was during Murcott's championship season in 2015 that he was called up to drive for RS1 at Watkins Glen. He qualified the car fourth and the team finished sixth.
"We had a good run there and I did four more races with (RS1) in 2015," said Murcott. "I knew from then that I wanted to run with them and if I had a good teammate, we'd be able to win the championship one day."
The first step towards that dream began at Circuit of The Americas in 2016. Machavern made his first start with Murcott and RS1 at the Texas circuit, finishing 13th, and the rest was history.
"We drive very similar, so it's very easy to set up the car for both of us," said Murcott, a native of Ancram, New York. "It's pretty easy to make us both happy and we communicate really well with the team. Dillon and I have both won Lamborghini championships with our car chief, so we knew what we needed in the car and we all just clicked really well."
As one would expect from a championship-worthy team, the No. 28 always found a way to rebound from poor luck and capitalize on momentum. The team finished outside the top 10 only once this season, 11th at Sebring International Raceway in February, but bookended that with a pair of top-five finishes to offset any backslide in the point standings.
Ahead of the fourth race of the season at Watkins Glen, the team signed the fantasy sports site YouRulz as the car's primary sponsor, alongside a handful of others including Friction-One, Heritage Motorsport and Windshield Armor.
Dillon Machavern and Dylan Murcott celebrate after capturing the IMSA Continental Tire SportsCar Challenge Grand Sport championship. (IMSA Photo)
After that move, the success was unstoppable. Three straight second-place finishes were finally capped off with a win at Virginia Int'l Raceway in August. The win was the first for both drivers and they solidified their position atop the GS championship standings, expanding their lead from four points to 19.
"That win was obviously the big turning point in the season," said Machavern, a recent graduate of High Point University. "It was pretty awesome…Things were just clicking towards the middle of the season. I think everybody was finally getting comfortable with the car and working together.
"It was just a really strong track for the car and for both Dylan and I, we really like that place. We like those old, sort of flowing tracks. Everything finally fell into place for us I think."
With a fourth-place finish at the penultimate race of the year at Mazda Raceway Laguna Seca, the No. 28 had all but locked up the championship heading to Road Atlanta.
"We were in a pretty solid position, so it was all about hitting our marks and being consistent and trying to run our own race and not everybody else's," said Machavern. "We knew where we had to finish in that race. Obviously, everybody was paying pretty close attention to that, but it was more about keeping that out of our minds and doing what we've done all year."
And of course, winning with a friend makes the victories that much sweeter.
"It's always fun to drive with a good friend for a full season, but it just means a lot that we're able to win a championship together," said Murcott. "Seeing how young we are, it'd be really nice if we can stick together and be able to race more throughout our careers."
While some details are still being finalized, the No. 28 team will return with its Porsche Cayman GT4 MR for the 2018 Continental Tire Challenge season. RS1 will be looking to defend its GS championship versus a growing car count that combines series veterans and newcomers interested in the class as it moves to full international GT4 specifications in 2018.
"The guys just battled through it like they always do," Machavern said. "That RS1 group is such a professional team. We just all put our heads down and pretty much did what we've been doing all year and it worked out. It just showcased how strong of a team RS1 really is. We're all pretty excited to come back and defend the GS title."
Source : speedsport.com
Comments
comments