EMIL FREY JAGUAR RACING EXCITED AHEAD OF BLANCPAIN GT SERIES ENDURANCE CUP SEASON OPENER AT MONZA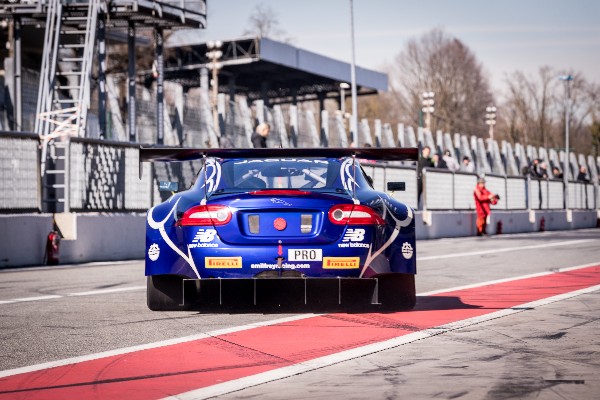 It´s back to Monza for the Jaguar team – a track, that brought many highs and lows to the team in past years, but a track where the GT3 Jaguar always showed a strong performance. This year, the GT3 Jaguar is driven by the known Alex Fontana alongside two newcomers: Mikael Grenier and Adrian Zaugg.
Emil Frey Jaguar Racing starts for the fourth consecutive time at the season opener of the Blancpain GT Series Endurance Cup at Monza, but up to now the team always fought unlucky. In 2016, a tyre puncture on the last race lap stopped a certain point result; last year both GT3 Jaguar did not see the finishing line after great achievements in qualifying and a good speed during the race. In the "high-speed-temple", as Monza is also called, the team concluded a two-day test a few weeks ago. After the positive test, the Jaguar team heads confidently to the season opener at the Autodromo Nazionale Monza.
"The preparations during the winter were mainly focussed on improvement and reliability to minimise issues with the drive and the tyres", says Jürg Flach, Technical Director Emil Frey Racing. "During the tests at the beginning of March, we completed a total of 1.251 kilometres with our drivers without any notable problems, which makes us optimistic. The lap times were always competitive and we used the occasion to find a good Setup with the 2018 tyres."
"Although Monza is a good track for us, we have not managed to secure any satisfying results over the past years", says Lorenz Frey, Team Principal Emil Frey Racing. "Every driver is excited to drive here, but even if the track looks easy on paper, every single mistake in the corners is punished with an immense loss of time, because you miss the momentum going onto the straights. We compete in the Silver Cup this year with the aim to drive at the front. We have three top drivers and a competitive car, with which we would like to say goodbye with a top result at Monza."
The Endurance Cup takes place at Monza from 20 – 22 April 2018. The three-hour race starts Sunday, 22 April at 3:00 pm and is streamed live at: www.blancpain-gt-series.com/watch-live
Driver Quotes Emil Frey Jaguar Racing #56
Alex Fontana (CH)
"Since last year, the team has made a good step forward and we are in good spirits for Monza following positive winter testing on different track conditions. Monza is a very special track, but it suits our GT3 Jaguar, because we have good speed and downforce. The driver line-up is top, both Mikael and Adrian are very fast and we work well together. Monza is my home track, because I only live one hour away in Lugano and I have driven many different cars around Monza."
Mikael Grenier (CAN)
"I have driven in Monza twice already and I won the race of the Lamborghini Super Trofeo Europe last year. It´s a place I very much like, the most I am impressed with is its history and also that it´s not like any other circuit today. It is difficult to give a forecast for our first race, but the test at Monza went very well. The GT3 Jaguar seems to be a quick car and we improved a lot during the two days. We compete in the Silver Cup and we are aiming to win this. If we keep our focus on our task and do not make mistakes, it should be possible."
Adrian Zaugg (SGP)
"I have driven in many different championships at Monza, for example in the Italian GT3 Championship, but also in the Endurance Cup as well. Monza is something really special for us drivers. The track is located within a beautiful park, it´s a real high-speed track with hard braking points. With the GT3 Jaguar we have a fast car and a super team of engineers and mechanics, who will get the maximum out of the car."
Source. Emil Frey Jaguar Racing
Comments
comments