HOME RACE FOR GT3 JAGUAR OF EMIL FREY JAGUAR RACING AT SILVERSTONE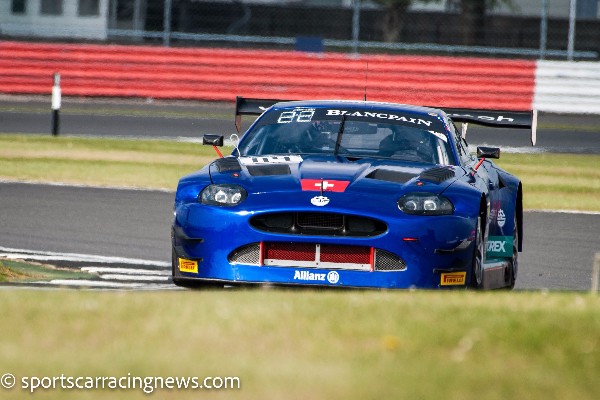 Emil Frey Jaguar Racing is highly motivated following the great start to the season by winning the Silver Cup and achieving fifth overall in Monza and is now taking the momentum to the second race of the Blancpain GT Series Endurance Cup at Silverstone. The second round is taking place next week at the "Home of British Motorsport" with the Swiss team celebrating their home race with the GT3 Jaguar.
Over past years, the GT3 Jaguar demonstrated some good achievements around the almost six-kilometre-long traditional track. In 2015, the team secured a great third place in PRO-AM  whilst both cars crossed the finishing line in the Top-12 last year. In this year, it is also important to represent both the brand Jaguar and the team well.
"After Monza, we have set-up the GT3 Jaguar with medium to high downforce", says Jürg Flach, Technical Director Emil Frey Racing. "Silverstone should accommodate our GT3 Jaguar with its fast corners. In the past three years, we showed in both qualifying and races good results. We have thoroughly inspected the car following Monza. The structural components such as chassis and drive shaft, have been in the check-up and will be re-build for the upcoming race. Despite the success, we will stick to our initial planning and will prepare as best as possible for the next three races. We should stay focused and remain on the ground."
Silverstone will mark the second of a total of four race weekends for the GT3 Jaguar with the start number 54. Despite the success at Monza, there are no further races planned after the Sprint Cup at Misano. "We were very happy about the strong result at Monza, because in recent years we suffered a lot of bad luck at this track so it was nice to travel home with a good sense of achievement", says Lorenz Frey, Team Principal Emil Frey Racing. "But our success does not come as a surprise, because we have prepared well over the winter. The GT3 Jaguar has always featured a good performance and everything came together at Monza. However, it will not always be that easy, but we are motivated for Silverstone and would like to get some more points to strengthen our fifth place in the team's championship."
The Endurance Cup takes place from 18 until 20 May 2018 at Silverstone (England). The three-hour race starts Sunday, 20 May at 2 pm local time and is streamed live on:
www.blancpain-gt-series.com/watch-live
Driver Quotes Emil Frey Jaguar Racing #54
Alex Fontana (CH)
"We will work as well as we did at Monza also at Silverstone and improve the car session by session. The results last year proofed that the track suits our car. Monza was fantastic, but there will never be the perfect race in which you just get the win. Therefore, we must continue to give our best and take the full potential of the GT3 Jaguar."
Mikael Grenier (CAN)
"Silverstone is a nice track for our GT3 Jaguar, we have a good car there especially in the fast corners. After Monza, our hopes are high and we must focus on our job and don´t make any mistakes. We would like to repeat the Silver Cup win from Monza and get further points in the overall result, that would be good for us at the moment."
Adrian Zaugg (SGP)
"I think, we should be well prepared for Silverstone. We are all highly motivated and work very hard. The track is a good layout for the Jaguar."
Source. Emil Frey Racing/Photo. John Patterson
Comments
comments