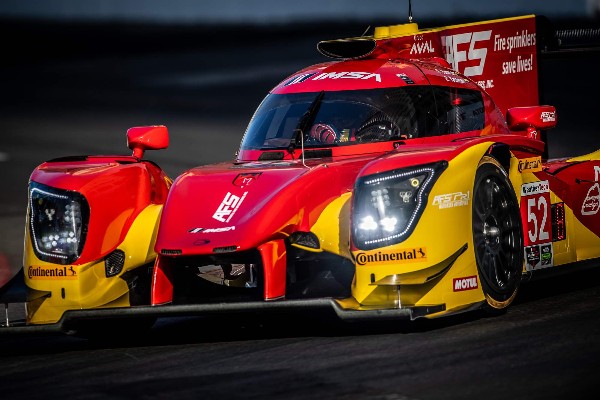 AFS/PR1 Mathiasen Motorsports finished sixth this weekend at round four of the 2018 IMSA Weathertech SportsCar Championship, the Acura Sportscar Challenge at Mid-Ohio, marking it their best result of the season.
It took all three practice sessions to get the balance of the car where the drivers needed it in order to feel fully confident, but AFS/PR1 Mathiasen Motorsports hard work paid off with Gustavo Yacaman achieving their best qualifing effort of the year with the seventh starting position, and the best out of the LMP2 entries and only a few tenths off the top contenders.
Yacaman started the two-hour and forty minute race with great momentum. With no yellow flags, the field was able to settle in and fight for pace. After completing half of the race as one of the quickest cars on track, Yacaman handed off the #52 Ligier JS P217 to his fellow Columbian teammate, Sebastian Saavedra. Saavedra maintained the pace set-up by Yacaman and took charge of the 2.4-mile circuit.
In the final pit stop, the crew of AFS/PR1 Mathiasen Motorsports made the decision to keep Saavedra on used tires, which led him straight into a battle with the #99 JDC-Miller Motorsports Oreca LMP2 machine. Saavedra kept the fight alive for the remainder of the race and managed to hold off the #99 to finish in 6th place, AFS/PR1 Mathiasen Motorsports best result of the season.
The fifth round of the 2018 IMSA WeatherTech SportsCar Championship, the Chevrolet Sports Car Classic, will be in Detroit, Michigan. The 100-minute race will take place on Saturday, June 2.
DRIVER – Gustavo Yacaman
"I'm pretty happy with how we have developed the car so far. We have made huge improvements, especially here at Mid-Ohio with how we started the weekend compared to how we finished. Very happy with the team and the crew. The car ran flawlessly all weekend and now I'm really looking forward to the rest of the year because we have a car we can race with."
DRIVER – Sebastian Saavedra
"Incredibly excited to have finished 6th. I think this is the first event of the season where we were able to put everything together. We had a huge evolution throughout the weekend from where we started with the car. We came in with a car that was not there, but we kept calm and AFS/PR1 Mathiasen did everything they could to make the car amazing to drive. It was really a delight to drive throughout the whole event. Kudos to everyone here on the team, and thank you to everyone for all the kind messages and good vibes. We are looking forward to Detroit."
TEAM OWNER- Gary Peterson
"I'm very proud of the AFS/PR1 Mathiasen Motorsports team, it was a very strong result and something that has been building during the whole season. It's a good feeling to know that we can be fighting with the the top guys up front and that even though we started at a disadvantage not being able to test at all, we are definItely catching up quickly. It was a flawless weekend for the team and drivers, everyone did a great job and I cant wait to keep this momentum up as we go into the rest of the season."
TEAM OWNER – Ray Mathiasen
"I wasn't able to attend the Mid Ohio race but did watch it on TV. It's a real challenge to compete against the manufacturer supported DPi's so I primarily focus on how the team is performing against the other P2s. To that end it was a great weekend with a strong qualifying effort with the ability to maintain and then improve on that position and eventually have our best finish so far in 2018. The team is improving every race. The competition between Saveedra and Simpson during the closing laps was fun to watch. I wish we were competing in a separate class for the P2s. Now that would greatly enhance our experience at the races!"
Source. AFS/PR1 Mathiasen Motorsports
Comments
comments