Ogier leads, Mikkelsen on course for podium – Volkswagen starts strongly at season finale in Wales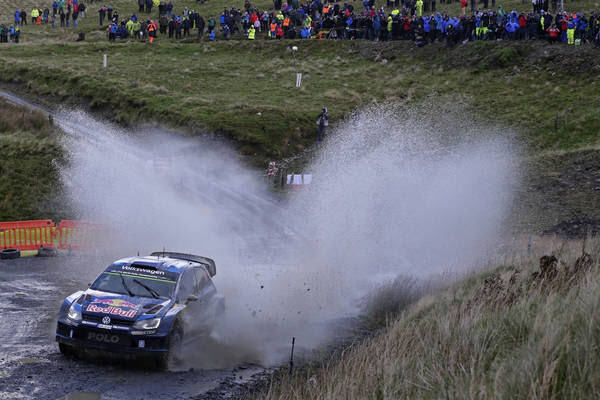 13.5-second lead and 400th stage win for Ogier/Ingrassia
Mikkelsen/Fløene third at final round of the WRC season
Day one comes to a premature end for Latvala/Anttila in Great Britain
Wolfsburg (13 November 2015). Mud packs, rally style: Volkswagen duos Sébastien Ogier/Julien Ingrassia (F/F) and Andreas Mikkelsen/Ola Fløene (N/N) made good starts at the Rally Great Britain. Three-time world champions* Ogier/Ingrassia overcame extremely tricky conditions to lead the final round of the FIA World Rally Championship (WRC) at the end of day one. Mikkelsen/ Fløene, winners last time out in Spain, are third. Ogier/Ingrassia won five of the day's six special stages, racking up stage wins number 400 and 401 of their career in the process, as they opened a lead of 13.5 seconds. Typical Wales: the muddy, slippery special stages provided the stage for a thrilling battle between Ogier/Ingrassia and second-placed Kris Meeke/Paul Nagle (GB/IRL, Citroën).
In contrast, Jari-Matti Latvala and Miikka Anttila's working day came to a premature end. Three-time winners this season, the pair currently second in the World Championship crashed off the road and into a ditch on stage two. However, they may re-join the rally under Rally 2 regulations on Saturday.
Quotes after day one of the Rally Great Britain
Sébastien Ogier, Volkswagen Polo R WRC #1
"There aren't many rallies on the calendar where you want to be the first on the route, but it's usually an advantage in Wales. As such, things went really well for Julien and me. On the whole, I am very pleased with the day. It wasn't easy to judge the grip level in the morning because it was extremely slippery in places. Then I changed the set-up of the dampers slightly and after that the handling improved. I had a great feeling in the Polo, particularly on the third stage. I don't have a big lead over Kris Meeke, he is really fast. It promises to be a good battle over the next few days. I'm looking forward to it."
Jari-Matti Latvala, Volkswagen Polo R WRC #2
"Naturally that wasn't what we had in mind at all. No sooner had we started the rally than it was over for us. We came off the road shortly after the start of the second special stage and landed in a ditch. Unfortunately, it was so deep that there was no way we could carry on. It's particularly frustrating since we had found a good set-up and the pace was right. We were definitely competitive and would have been able to push for the win. But that's the kind of thing that happens in our sport. We will try to restart under Rally 2 regulations. Naturally it is frustrating for today, but things will look different in the morning."
Andreas Mikkelsen, Volkswagen Polo R WRC #9
"I'm very happy with our start to the Rally Great Britain. Without any test drives or the experience from the Shakedown, which I was forced to skip yesterday, the key was to quickly find a rhythm in these extremely tricky conditions. We did a good job, even if we were a bit too cautious here and there and lost time. I just don't have as much experience on today's stages as on those on Saturday and Sunday. That's why I am looking forward to the next two days and am excited to see what we can achieve. In any case, third place isn't a bad start."
Jost Capito, Volkswagen Motorsport Director
"The Rally Great Britain and its very demanding conditions are far from easy to master. When the weather is as unsettled as it was today, finding the right compromise between caution and attack is a mammoth task, but one that Sébastien Ogier and Julien Ingrassia mastered brilliantly. Andreas Mikkelsen and OIa Fløene also produced a solid display. We also saw just how quickly mistakes can be punished on this muddy and slippery surface, as in the case of Jari-Matti Latvala and Miikka Anttila, who slid out early on in the day."
And then there was …
… an unusual return under "Rally 2 regulations", just at the right time. On Friday – the 13th, incidentally – the coffee machine in the Volkswagen service area broke down. A disastrous development, particularly given that work is scheduled to get underway at 04:15 on Saturday, with the Polo R WRC due for its first service at 05:00. However, following an effort worthy of champions – and a telephone call to an expert – the machine was restored to working order. Thank you Radek, Yasemin and Melanie!
FIA World Rally Championship (WRC),
Rally Great Britain – Results
Friday,
13 November 2015
km
#1
Ogier/
Ingrassia
#2
Latvala/
Anttila
#9
Mikkelsen/
Fløene
SS 01
Hafren 1
32.14
P01
P02
(+ 0.8s)
P04
(+ 7.1s)
SS 02
Sweet Lamb 1
03.19
P01
Retired
P03
(+ 3.1s)
SS 03
Myherin 1
30.23
P01
P02
(+ 6.6s)
SS 04
Hafren 2
32.14
P02
(+ 5,2s)
P03
(+ 11.2s)
SS 05
Sweet Lamb 2
03.19
P01
P04
(+ 1.6s)
SS 06
Myherin 2
30.23
P01
P04
(+ 7.0s)