Dorian Boccolacci on the NEC podium after a disastrous weekend at Hockenheim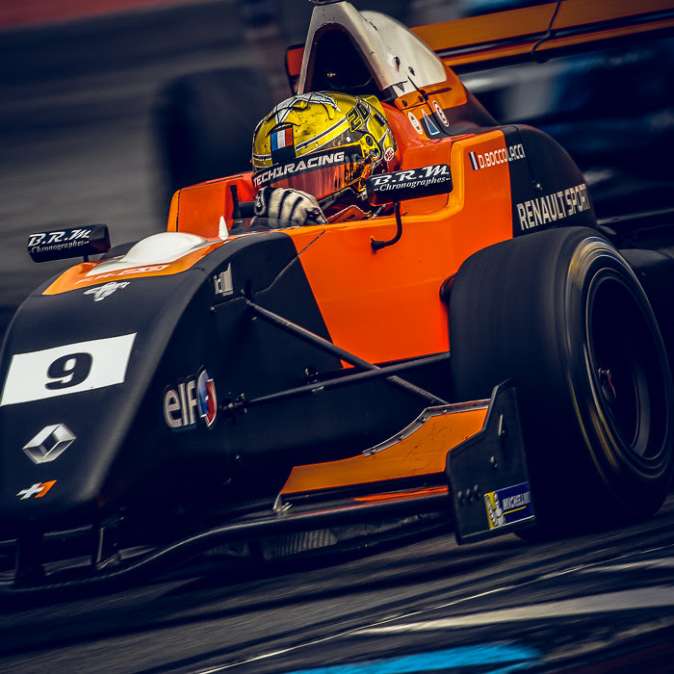 At Hockenheim, Dorian Boccolacci continued the momentum of his excellent results in the Eurocup at Spa. Unfortunately, the last meeting of NEC FR 2.0 in 2016 proved to be complicated and the Tech 1 Racing driver was never able to shine the way he wanted. The weekend was not entirely negative as Dorian finished the season in 3rd position in the Championship. He is now preparing to compete in the last race of the Eurocup FR 2.0 at Estoril at the end of October with a vice-championship in the spotlight.
«For various reasons, I could not get results at Hockenheim,» explained Dorian. «It's probably my worst weekend of the season. The performance was there in Races 1 and 2, but not the success. I had a chance to keep my 3rd position in the final classification of the NEC. We will work with the team to analyze the problems and find solutions before the last meeting of the Eurocup. I want to fight for victory again and secure my 2nd place in the championship.»
The track conditions were not ideal for Qualifying. The tarmac was drying irregularly on the 4.5 km of the German circuit. The lottery was not favourable for the Var driver who found himself a long way from the lead. The task did not look easy. At the start of Race 1, only the racing line was dry and the Safety Car had to intervene on the first lap after several incidents. Rain made its appearance and the race was interrupted by a flag even before it was restarted. A new start was given under the Safety Car, after mounting wet tyres without the stopwatch being stopped! There was less than 5'30 left to run when the cars were finally released with reduced visibility. Dorian climbed from 11th to 7th position while many drivers made mistakes in the pack. The race was then red flagged permanently, which deprived him of the excellent gain. Just one lap had been covered by everyone …
The sun was back for Race 2. Starting on the 7th row, Dorian immediately went on the attack and launched into an impressive rise through the pack. Already in 10th after only three laps, he maintained his pace to overtake and reached 7th position before closing the gap from 4 '' to 1.2 '' to 6th. He didn't yet gain from his progression, the strongest of the race with seven places taken as his engine stopped on the penultimate lap, due to a fuel regulator problem.
Dorian started from 6th position for Race 3, his best position of the whole weekend. The spell was broken again, his car for once missing some performance. He was forced to allow several drivers to pass to finish in a disappointing 8th place.
«I made a very good start, I had already taken 4th place on the first lap by passing Max Defourny, but then I saw that the car was not working as well as usual. I hope the team will solve this problem for the next race because I don't understand what happened. I am now focusing on the meeting at Estoril, to end the Eurocup. I am also very happy to be testing a Formula 3.5 V8 with the Fortec Motorsport team late in the season.»
Comments
comments