LEGACY AUTOSPORT EXCELS WITH SAM BEASLEY BEHIND THE WHEEL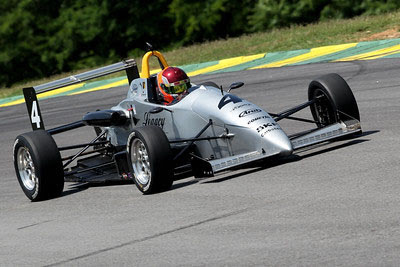 "Talented team claims multiple wins and a championship in 2015 with Sam Beasley ; looks forward to 2016"
Coming off a three win performance the previous season, Sam Beasley joined Legacy Autosport for the 2015 season in the quest to take on the F2000 Championship Series in his sophomore season. Campaigning a converted Mygale F1600 chassis into an F2000 car that was in ongoing development, Beasley dominated the championship battle by taking twelve victories in fourteen events and secured the series title.
"It was a great season for Legacy Autosport and the Mygale brand," explained Ben Beasley, father of Sam. "We had a tremendous start to the year and kept evolving both the team and the car. Never one to give up, we kept pushing each other to continually improve every aspect of our program and I really believe Legacy Autosport is now where it needs to be to continue such domination in 2016 and beyond."
Legacy Autosport took on the Mygale program and continually worked to improve. Taking on the task of turning a F1600 car into a championship winning F2000 machine, Legacy Autosport manufactured all components in-house and tweaked and modified where necessary after on-track testing. Working non-stop to develop the best car on the market, Legacy Autosport provided a Mygale F2000 that had more mechanical grip than others on the market. Beasley was able to turn that grip into decreasing lap times en route to his dominating championship winning season.
With Sam Beasley weighing all his options for the upcoming 2016 season, Legacy Autosport currently has seats available in the F2000 Championship Series. With a growing resume and the knack for having one of the fastest F2000 machines in the paddock, drivers looking to move into a championship-winning car should contact Legacy Autosport.
Beasley continued, "We have a few seats to fill for the 2016 season. We have a few drivers that have shown interest but we want to make the right decisions for our program to ensure that we not only help advance drivers up through the motorsports ladder, but also continue our race winning program for years to come."
For more information on Legacy Autosport or information on how to be a part of this exciting team, please contact Ben Beasley via e-mail to benbeasley4747@yahoo.com or by phone at440.357.6644. Stay tuned for the Legacy Autosport website and social media program to come in the very near future.