Consistency Pays for Kaiser with Win and Indy Lights Points Lead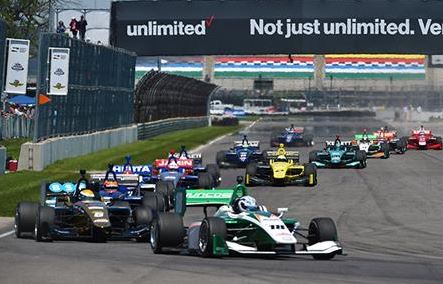 INDIANAPOLIS, Ind. – Kyle Kaiser has been a model of consistency in this year's Indy Lights Presented by Cooper Tires title-chase. He has been fast too. In today's Mazda Road to Indy Grand Prix Presented by Royal Purple Supporting Lupus Foundation of America at the Indianapolis Motor Speedway Grand Prix road course, the talented Californian used both attributes to excellent effect as he translated his second pole position into his first victory of the season for Juncos Racing. It was enough to vault him into the championship lead after six of 16 races.
Uruguayan Santi Urrutia bounced back from a series of disappointing results to claim a strong second-place finish for Belardi Auto Racing. Brazilian rookie Matheus Leist completed the podium for the Carlin team.
A warm and sunny day with low humidity provided perfect conditions for an enthusiastic crowd, and the 14 Indy Lights campaigners provided an entertaining 35-lap race with battles throughout the closely matched field.
Kaiser took full advantage of his pole position to hold the lead into the heavy braking area at Turn One, narrowly ahead of a fast-starting Urrutia, who jumped from fourth to second at the first corner. Urrutia used the draft to draw alongside Kaiser on the long front straightaway at the end of Lap 2, but once again Kaiser kept his cool, and his position. Urrutia tried again next time around and actually managed to nose ahead into the braking area, only to run a little too deep which enabled Kaiser to maintain his lead.
Urrutia instead soon lost a place to Leist, who has arrived in the United States this year on the crest of a wave after wining last year's BRDC British Formula 3 Championship. The two South Americans' in-fighting allowed Kaiser just a little breathing space, whereupon the 21-year-old from Santa Clara, Calif., put his head down and turned a series of consistently quick laps to extend his lead.
The gap grew to more than 3.5 seconds on Lap 11, after Urrutia found a way back past Leist in Turn Seven, and that was to prove the decisive break. As Urrutia consolidated his advantage over Leist, who instead came under attack from Carlin teammate Neil Alberico, Kaiser motored away to take the checkered flag 6.4768 seconds to the good.
Urrutia was relatively content with second and the Staubli Award, but the battle for third wasn't resolved until the final couple of laps when Leist robustly rebuffed Alberico's overtaking maneuver at Turn One. Alberico was unable to avoid contact, which broke his Dallara-Mazda's front wing and left him struggling to bring his car home to the finish.
Yesterday's winner, Frenchman Nico Jamin (Andretti Autosport), snuck past for fourth, while Colombian Juan Piedrahita (Team Pelfrey) celebrated his 100th Mazda Road to Indy start with a solid run to fifth, overtaking Alberico on the run to the finish line. Piedrahita's drive was particularly noteworthy since he had been unable to start yesterday's race due to a heavy accident during practice.
Rookie Ryan Norman, from Aurora, Ohio, last year's Formula Atlantic champion, showed his best form of the season to date by finishing close behind Alberico in seventh. Norman also earned the Tilton Hard Charger Award after starting 12th.
Kaiser's fourth consecutive podium finish vaulted him from third to first place in the points table. He leads Jamin by 139-126, with previous points leader Colton Herta (Andretti-Steinbrenner Racing) now third on 121. Herta, 17, from Valencia, Calif., suffered another disappointing day, falling to 10th after a grassy excursion while trying to fend off Alberico.
The teams will remain in Indianapolis for the next round, the season highlight Freedom 100 on the hallowed 2.5-mile Indianapolis Motor Speedway oval, on Carb Day, Friday, May 26.
Kyle Kaiser (#18 Juncos Racing): "It was unreal. I started getting emotional when the team told me there were five laps to go, thinking about the podium. I had to really keep myself in check until the checkered flag, and then I was just euphoric. It was a tough race. It is super hard to start from the pole here. I had to get a good jump and try to keep Colton behind me going into Turn One – especially because we were so close in the points. From then on, it was a matter of keeping Santi behind me, which was hard because he had a really good car. He almost had me in Turn One but after that, I was able to get a gap. Every time I came onto the front straight I could see the gap behind so I was watching that each lap. I settled in and just did laps. I try to think of it as a practice, pushing the car but not overly pushing which is what I did yesterday. And now, I get to watch the Juncos Indy 500 team. I'm so excited for them."
Santiago "Santi" Urrutia (#5 Belardi Auto Racing w/ SPM):  "It has been tough to get the car quick and get into the top five. We tried to get the lead but second place is really good for us. We're working as a team to figure out where we're losing time and when we find that, we're going to be okay. There is still a long way to go in this championship so we have to get podiums and points, points, points. I had to push 100 percent each lap trying to get to the lead early, then trying to get back into second when I fell to third. There are no emotions right now because no matter where you are, you want to win. Finishing second is good motivation for everyone as we go into the Freedom 100."
Matheus Leist (#26 TMA – Carlin): "It's amazing – I think my first series podium shouldn't be anywhere else but Indianapolis. This is the best place for that. We didn't have great pace today but I'm happy with third. It was a great battle with my teammate. Neil was faster than me but it was still hard to overtake so I was able to stay in front under braking in Turn One. It is still a learning process. Everything is new for me this year – the tracks, the team, the series, the car, the tires, the engine. If I keep progressing like this, I know we can get more podiums."
Source :IndyLights.com
Comments
comments