Lando Norris and Joel Eriksson at the Race of Champions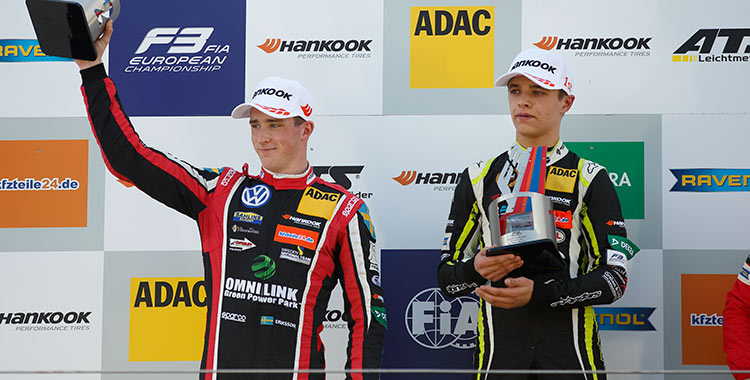 2017 FIA Formula 3 European Champion Lando Norris and runner-up Joel Eriksson represented the FIA Formula 3 European Championship at this year's Race of Champions which was held in Riyadh, Saudi Arabia.
The Race of Champions brings together the world's best racing drivers from all the disciplines of competition and puts them in head-to-head-battles on the same track and in the same car. In this annual knockout tournament the drivers have to prove themselves in a variety of vehicles. The Race of Champions organisation invites the competitors to take part in that famous stadium event – and this year two of them were Lando Norris and Joel Eriksson. They were fighting against some racing stars like Tom Kristensen, Juan-Pablo Montoya and David Coulthard.
The individual competition started with the group stage, where Eriksson and Norris found themselves in the same group. Next to the two youngsters DTM champion René Rast and FIA World Rallycross Champion Johan Kristoffersson were going for the two spots in the quarter finals. Eriksson lost against Rast, but won versus Norris and Kristoffersson, which allowed him to enter the quarter finals. In contrast to the Swede Norris' day ended in the group stage: The Brit, who suffered a crash in his first race, failed to qualify for the next round.
In the quarter final Eriksson had to deal with Petter Solberg, former Rally and Rallycross World Champion from Norway. It was close, but finally Solberg made it to the semi-finals. "I've had so much fun this weekend; it's been such a pleasure to come here and challenging as well," said Joel Eriksson. "It's been an incredible week for me. Of course, it would have been great to make it to the finals, but I'm still pleased with my performance. I think this is an event where experience helps a lot; for me as a RoC-rookie it was not so easy jumping from one car to another for just a few laps. I can live with Petter knocking me out in the quarter finals. After all, he is a Rally and Rallycross World Champion and he's done this race many times, so that's alright for me."
One day before the single tournament the drivers battled out the Nations Cup. Together with Kirstoffersson Eriksson represented Sweden, whereas Norris teamed up with former Formula 1 driver David Coulthard as team Great Britain. Both teams missed the semi-finals after a very tight and exciting fight against their group rivals.
Source: http://www.fiaf3europe.com/
Comments
comments