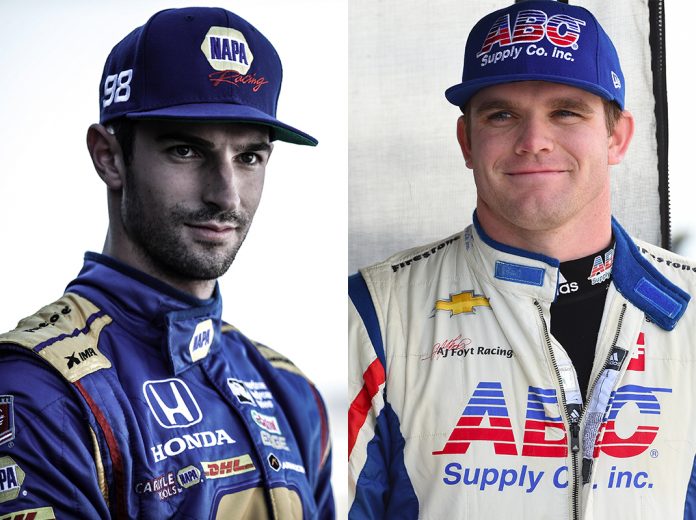 INDIANAPOLIS – Alexander Rossi and Conor Daly have been friends for years, and sometimes housemates since both joined the Verizon IndyCar Series full time in 2016.
Now they're something more, teammates for Season 30 of The Amazing Race, the popular reality competition show airing on CBS.
Rossi and Daly form Team IndyCar for the competition that covers 10 countries, 21 cities and more than 29,000 miles in the quest to cross the finish line first and win $1 million.
Team INDYCAR is among 11 two-person entries competing in the contest, which premieres on Jan. 3.
"It was a pretty crazy experience, definitely different than what I thought it would be, but totally worth it," Daly said. "It was fun to meet a lot of different people from different sports, different avenues of life. The cast really was one of the best parts of the show."
Rossi admitted he hadn't seen many previous seasons of The Amazing Race before undertaking the adventure. He was tested by it but enjoyed the experience.
"It was different in the sense that it's not as fast-paced as it appears in the show," Rossi said. "It was better than I expected because, in the gaps between legs of the race, they actually put you in a hotel and fed you and everything. So it wasn't kind of extreme like a 'Survivor' type of process."
"The legs were really long in the sense that you spent a lot of time in airports, you slept on the floor a lot," Rossi added. "It was an interesting experience. Again, I'm very happy that I had the opportunity to do it. It opened my eyes to what reality television is like. I think the fans will have a really good time watching it."
Participation by Rossi, the 2016 Indianapolis 500 winner and Daly had been speculated since they were seen at the start of the competition earlier this fall at Washington Square Park in New York City. From there, the teams went to Iceland, where they were tasked with traversing a massive canyon high above the Geitargljufur River.
Source :speedsport.com
Comments
comments