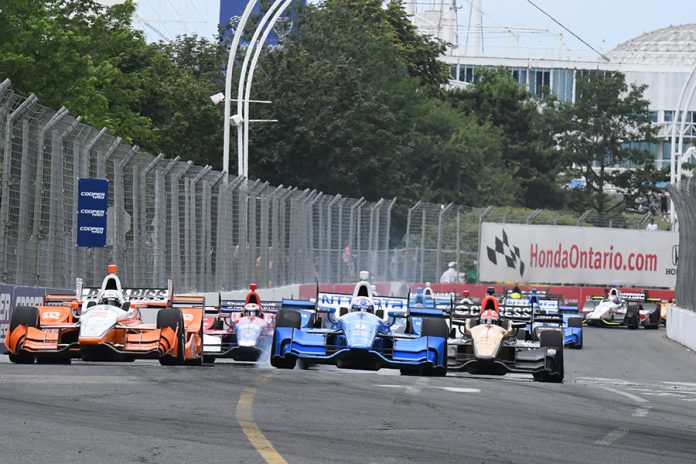 The Verizon IndyCar Series field early during the Honda Indy Toronto. (Al Steinberg Photo)
TORONTO — The renewal window for customers who purchased two-day reserved grandstand seats to this year's Honda Indy Toronto is now open.
This annual event takes place July 13-15 at Exhibition Place. Orders can be placed online at hondaindy.com or by calling 877-725-8849. Public ticket sales will begin Dec. 5.
Renewal customers who purchase two-day reserved grandstand seats get automatic enrollment in the Meridian Champions Club by placing their orders now through Dec. 4.
The Meridian Champions Club offers exclusive benefits and access, including a souvenir credential with lanyard, complimentary Verizon IndyCar Series paddock passes, pre-race grid walk, discounts on official event merchandise, an opportunity to win a two-seater Indy car ride on the track, and many other experiences.
"The Honda Indy Toronto has shown tremendous momentum over the past two years, and we expect this positive trend to continue.  2018 will be an extra special celebration as we mark our 10th year with Honda Canada as title sponsor of this summer racing tradition," said Jeff Atkinson, president of Honda Indy Toronto.  "Then, Sunday afternoon's Verizon IndyCar Series race will certainly ignite additional passion from our fans. The new Indy car design, and the recent announcement of local favorites James Hinchcliffe and Robert Wickens becoming driving teammates has formed an awesome, all Canadian super team to root for."
Ticket sales during the renewal period are only available to customers who purchased two-day reserved grandstand seats for the 2017 race weekend.  These customers can reserve the same seats as last year or possibly upgrade their location.
Pricing starts at $85 for Bronze-level Reserved Grandstand Seating (lower rows), $130 for Silver (middle rows), and $185 for Gold (upper rows).
Source :speedsport.com
Comments
comments