Advantage To Franzoni In Watkins Glen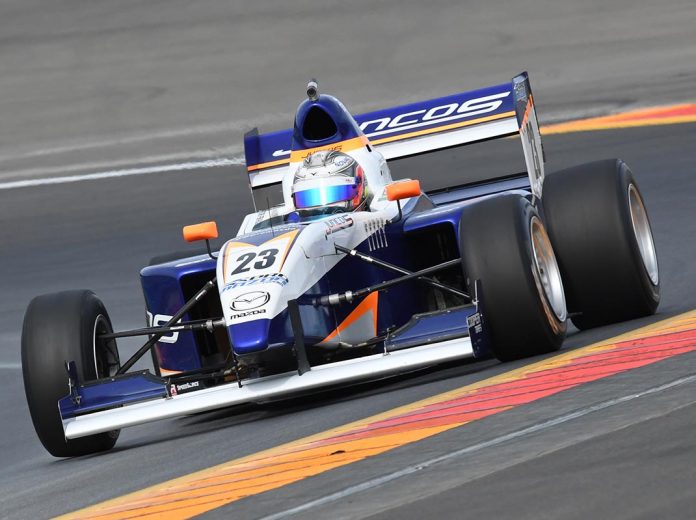 Victor Franzoni captured Saturday's Pro Mazda Championship event at Watkins Glen Int'l. (Al Steinberg Photo)
WATKINS GLEN, N.Y. – Victor Franzoni extended his slender lead over Pro Mazda Championship Presented by Cooper Tires rival Anthony Martin by virtue of a hard-fought victory Saturday in the first of two races that comprise the Pro Mazda Watkins Glen Grand Prix Presented by Cooper Tires.
The Brazilian now holds an eight-point edge with a Mazda Scholarship worth almost $800,000 on the line in Sunday morning's final race of the season.
A third-place finish for fellow Brazilian Carlos Cunha enabled him to vault ahead of Team Pelfrey teammate T.J. Fischer in their scrap for third place in the championship. The result also allowed Team Pelfrey to stretch its lead in the Team Championship to six points over Juncos Racing.
The two title protagonists were separated by just two points as they headed to upstate New York for this weekend's final double-header, but that gap was extended by one after qualifying yesterday afternoon when Franzoni posted a new track record of 1:42.4376, an average speed of 118.433 mph, to secure his fourth pole of the season by a handsome margin of .8121 of a second.
In markedly cooler conditions Saturday, the front row pair took off in lock step with Martin, from Perth, Australia, intent upon not allowing Franzoni to stretch away. Even better, Martin took advantage of an aggressive run through the Esses on the opening lap, plus a good draft, to tow past as the leaders headed toward the Inner Loop.
The race was neutralized before the end of the second lap when Pro Mazda debutant Robert Megennis lost control and crashed at turn nine. Innocent teammate Nikita Lastochkin, who had been embroiled in a close battle for third in the championship, was unable to avoid the wreckage and also crashed out of the race.
Even though Martin led away from the restart, it quickly became apparent that Franzoni had the faster car. The Brazilian tried a couple of times to make a bold outside-line pass at the toe of the boot (turn seven), only to be rebuffed each time.
Finally, on lap 12, Franzoni virtually mirrored the earlier pass by Martin as he drafted into the lead prior to the Inner Loop. Franzoni then romped away over the final couple of laps, posting comfortably the fastest lap of the race at a new record 1:43.5737 (117.134 mph) before taking the checkered flag a full 3.5743 seconds clear to claim his sixth win of the season.
"My only thought during the race was to pass Anthony," said Franzoni. "I had to win but at the same time I had to stay calm enough not to make any mistakes. It's been this way all year long and that's taught me a lot. I had close to a perfect race, pushing as hard as I could. I waited to make a move until we were through the fast corners, somewhere I knew I could get a gap. Once I was able to get back around, I didn't check the mirrors at all, I just focused on the next turn. I was not trying to save anything. The Juncos guys are so great, everything they do has helped me. I had five guys talking to me during qualifying, but I told them not to speak during the race because I had to focus. I'm enjoying this season so much and I'm hoping to win the championship and keep going with them."
Martin couldn't match that pace and instead had to concentrate on maintaining second place ahead of Cunha, which he achieved by less than one second. Sting Ray Robb finished a distant fourth, well clear of Kris Wright in fifth.
The finish:
Victor Franzoni, Anthony Martin, Carlos Cunha, Sting Ray Robb, Kris Wright, Matt Machiko, Bobby Eberle, Brendan Puderbach, Charles Finelli, T.J. Fischer, Jeff Green, Robert Megennis, Nikita Lastochkin.
Source :speedsport.com
Comments
comments