Aaron Telitz Returning To Belardi Auto Racing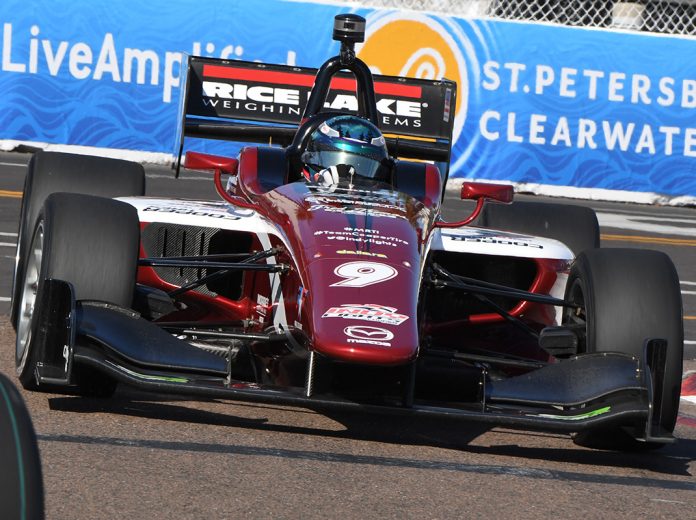 Aaron Telitz will return to Belardi Auto Racing in 2018. (Al Steinberg Photo)
BROWNSBURG, Ind. – Belardi Auto Racing has confirmed that Aaron Telitz will return to the team with the intent to contest the full Indy Lights schedule next year.
Telitz currently has a partial budget for the season, and he and his management team are currently working to secure marketing partners for the remainder of the schedule. The 26-year-old is confirmed to start the season with Belardi and will once again be paired with Belardi's staff of experienced race engineers to pick up where they left off last year, having dominated the wet weather action in the season finale at Watkins Glen Int'l.
"I'm incredibly excited about how our team is developing for 2018, and being able to run Aaron again next year is such a huge positive for our organization," offered team owner Brian Belardi. "As a rookie last year, he showed us his talents immediately, winning the opener at St. Petersburg. As he continued to develop in the car, he became even more impressive. I believe that his performance in the rain at Watkins Glen is a real indication of just how good Aaron is and how good he could become. We're thrilled to have him back."
The Minneapolis, Minn., resident scored a pair of wins during his freshman Indy Lights campaign in 2017, bookending the year with wins in the opening round in St. Petersburg and the wet finale at Watkins Glen.
Telitz drove the Soul Red Mazda Scholarship car in his rookie season after capturing the 2016 Pro Mazda Championship Presented by Cooper Tires championship.  The two Indy Lights victories from this past year push his Mazda Road to Indy total to 10 wins, adding to a pair in USF2000 and six in Pro Mazda during his 2016 championship season.
"It's a great feeling to be coming back with Belardi Auto Racing to have another go at the Indy Lights Championship," Telitz said. "This will be the first time in my career that I get to drive for the same team in back-to-back years. The continuity is already there and we will be a force from the drop of the green flag at St. Pete.
"As always, funding could be a limiting factor for me this season as I will be working to finish out my budget throughout the season," Telitz said. "Brian has been gracious enough to work with me and figure out how we can make it work this year. I want to offer a massive thanks to my long-time partner Rice Lake Weighing Systems, who have been with me since Formula Fords and continue to ensure my racing career is able to flourish. Also thanks to Morrie's Auto Group, PPG, Assured Automotive, Styled Aesthetic, Liberty Engineering, and Bell Helmets, who are all on-board to assist in my run at the championship in 2018. I know that we will have our work cut out for us, but I'm confident that we can get the job done and bring the Driver Championship back to Belardi in 2018."
Source :speedsport.com
Comments
comments