GP3: Boccolacci signs off with maiden win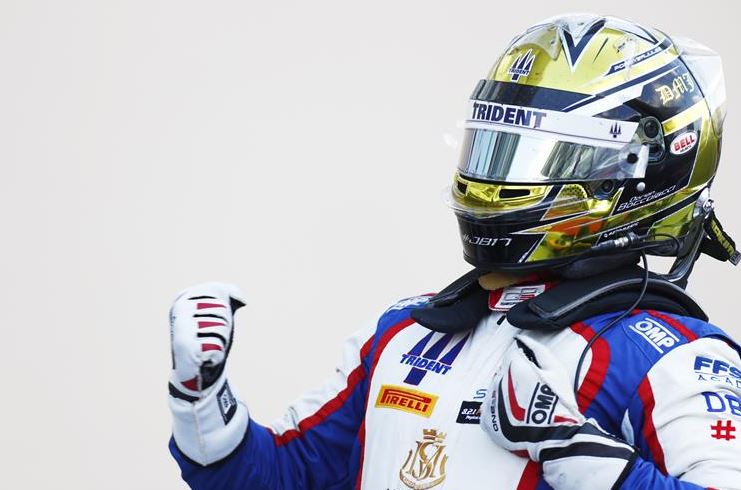 Frenchman flies to victory in final race of 2017  
Dorian Boccolacci finally grabbed his elusive maiden win in this afternoon's Race 2 at the Yas Marina Circuit, making a strong start before overtaking for the lead early in the race and then soaring off into the distance in the last race of the 2017 GP3 Series, ahead of teammate Ryan Tveter and Daniel Ticktum.
The race opened once again to gloriously sunny conditions, with poleman Tveter making a perfect start to lead Boccolacci, Steijn Schothorst, Alessio Lorandi, Ticktum, Arjun Maini, Niko Kari and George Russell into turn 1: the Frenchman was soon all over the race leader as the pack took shape, with Ticktum putting Lorandi on notice on the back straight and Kari squeezing by Maini for P6 just behind them.
It only took 2 laps for Boccolacci to make the pressure stick: he was easily through Tveter for the lead on the back straight before heading off into the distance, while further back Russell and Maini were already involved in a lengthy battle for supremacy, swapping positions for lap after lap. Ticktum was less interested in a protracted fight though, and blasted inside and through Lorandi on the back straight on lap 7 and was soon looking for more.
Next time through he tried to repeat the move on Schothorst, who looked to close the door: Ticktum squeezed past but with all 4 wheels over the line, picking up a 5s time penalty in the process. Worse was to come for Lorandi, who also tried the move a lap later but lost his front wing on the Dutchman's rear tyre, prompting an unscheduled pitstop for the Italian.
Russell finally broke the chain with Maini on lap 11 and headed off after Kari, who himself was closing in on Schothorst: it took just 2 laps for the trio to engage, with the Dutchman and the Finn colliding to give the new champion a clear run through at the marina complex. Ticktum, meanwhile, continued his serene run up the timesheets as he easily dispatched Tveter for P2 on the road, and pushed hard to overturn his time penalty.
At the flag Boccolacci has sailed to a simple win by 5.5s over teammate Tveter, who stayed close enough to Ticktum to gain P2 back after the Briton's time was added, with Russell rounding out a tremendous season in P4 ahead of teammate Anthoine Hubert and a recovering Kari, with Bruno Baptista holding on from Maini on the line by 0.1s for P7.
So the 2017 GP3 Series season closes with George Russell as champion ahead of teammates Jack Aitken and Nirei Fukuzumi, and their team ART Grand Prix once again finishing as Teams' champions, ahead of Trident and Jenzer Motorsports.
Provisional Race 2 Classification
| | | |
| --- | --- | --- |
| | Driver | Team |
| 1 | Dorian Boccolacci | Trident |
| 2 | Ryan Tveter | Trident |
| 3 | Daniel Ticktum | DAMS |
| 4 | George Russell | ART Grand Prix |
| 5 | Anthoine Hubert | ART Grand Prix |
| 6 | Niko Kari | Arden International |
| 7 | Bruno Baptista | DAMS |
| 8 | Arjun Maini | Jenzer Motorsport |
| 9 | Kevin Jörg | DAMS |
| 10 | Jack Aitken | ART Grand Prix |
| 11 | Giuliano Alesi | Trident |
| 12 | Raoul Hyman | Campos Racing |
| 13 | Juan Manuel Correa | Jenzer Motorsport |
| 14 | Nirei Fukuzumi | ART Grand Prix |
| 15 | Tatiana Calderon | DAMS |
| 16 | Julien Falchero | Campos Racing |
| 17 | Alessio Lorandi | Jenzer Motorsport |
| 18 | Steijn Schothorst | Arden International |
| | Not Classified | |
| | Marcos Siebert | Campos Racing |
| | Leonardo Pulcini | Arden International |
source: GP3 Series, gp3series.com
Trident Racing
GP3 Series, Yas Marina, Sprint Race Report
Team Trident scored a sensational 1-2 finish in the final round of the series at Yas Marina with Dorian Boccolacci and Ryan Tveter ending up first and second respectively, while Giuliano Alesi secured P5 in driver points.
With Team Trident's colors dominating the front row of the Sprint Race at Yas Marina, the predictions for the final race of the 2017 GP3 Series were all in favor of the Italian squad. And when the race started, Ryan Tveter and Dorian Boccolacci accomplished the feature by remaining at the front and never looking back. The nineteen-year-old Frenchman soon broke the ice and made his way past the American to score his first win of the year, taking home sixth place in the driver rankings in the process.
Tveter's performance was equally impressive, confirming how he remained among the frontrunners for the whole second part of the year. Today's result marks the end of a season that saw the team stand as a top operation in the series, with four wins and a valuable second place in the team championship.
In such an unforgettable day, Ferrari Driver Academy Giuliano Alesi barely missed the top-10 after having to start from the penultimate row of the grid. In the end, he was able to retain fifth place in the standings. Positive notes also came from Kevin Jörg, who finished in ninth position at the end of a solid performance. Overall, the Abu Dhabi weekend will stand as a memorable one for all Team Trident.
Giacomo Ricci, Team Manager:
"I am delighted to have completed the season with a great 1-2 finish which brought our total number of wins in 2017 to 4. Our drivers were been impeccable today. Dorian Boccolacci and Ryan Tveter once again confirmed the performance standard and reliability of our cars by constantly remaining at the front. I am also pleased with the highly deserved fifth place in the general ranking secured by Giuliano Alesi, who scored three wins this season. This result will provide us with even more motivation to give our best in preparing for 2018! "
source: tridentracing.it
image: http://www.flagworld.com/photos/d/897904-1/Campos+Racing+logo.jpg
Pertamina Campos Racing
Campos Racing deliver persevering effort in Abu Dhabi
Falchero was far from being in peak physical condition due to neck pain and Siebert hit the wall in qualifying, as a result both factors damaged their chances. Hyman couldn't convert his positive qualifying result into points
The GP3 Series came to an end last weekend at the Yas Marina Circuit in Abu Dhabi. Campos Racing and their three young aces were willing to finish the season on a high note at the season-ending event. Unfortunately, circumstances prevented the maximum potential.
During Friday's free practice session, Raoul Hyman posted the seventh-fastest lap time with a lap of 1:56.225. Marcos Siebert also showed good pace with his time of 1:56.608 to finish 11th on the timing sheets. Julien Falchero was struggling due to neck pain and the Frenchman couldn't improve 19th-fastest time. Later in qualifying, Hyman led the charge for Campos Racing and qualified 8th with a personal best of 1:55.583. Argentinian Siebert was also putting a good lap together but hit the wall and ruined his chances to secure a top-ten start, finally lining up 18th with his 1:56.485. Falcheron set a lap time of 1:57.015 to start 20th.
Hyman's chances disappeared when he lost many places on lap 1 and dropped to 18th. From then on, despite overtaking drivers such Jack Aitken, Hyman wasn't able to improve a 13th finish. Siebert overtook five cars at the start but retired after three laps with transmission problems. Falchero didn't start due to his physical problems.
On Sunday, Falchero joined his teammates for the very last race of the season. Hyman improved on his grid position to bring home a 12th place. Falchero made strenuous efforts to finish 16th. Siebert was forced to retire once again.
source: camposracing.com
Pirelli
DRAMATIC FORMULA 2 WEEKEND IN ABU DHABI CENTRES ON TYRE STRATEGY, WITH NEW WINNERS IN GP3
FORMULA 2
Feature Race, the winner: Tyre strategy was at the forefront of the Formula 2 Feature Race, with very different approaches deciding the outcome. DAMS driver Oliver Rowland started on the supersoft and then made an early switch to soft on lap eight, managing the compound perfectly to the finish. After the race, Rowland and Prema's Antonio Fuoco were penalised for technical infringements. This promoted Russian Time's Artem Markelov (who ran an identical strategy to Rowland) and Prema's Charles Leclerc to first and second.
Artem Markelov: "I had a really good start and tried to get a gap to the guys behind but I was also thinking of tyre degradation, so I was trying to look after them and calm down. After my stop, I was really struggling on my first two laps with the wheels locking, but I still managed to have a gap to Charles, so I wasn't worried."
Feature Race, alternative strategy: Newly-crowned champion Leclerc ran the opposite strategy: starting on soft to lead for a large part of the race after the supersoft starters pitted. He then switched to supersoft on lap 23, but experienced tyre degradation at the finish – obeying team orders to let his team mate Fuoco past him.
Sprint Race, the winner: Leclerc added to his remarkable season by sealing a seventh win this year on the final lap, when he passed ART's Alexander Albon, who had led from the beginning. The sprint race was held in warm temperatures, and was all about preserving the soft tyre for the duration of the 22-lap encounter, with no mandatory pit stops.
GP3
Feature Race, the winner: Arden's Niko Kari triumphed in the Feature Race, which was disrupted by two Virtual Safety Cars, managing his soft tyres perfectly at every re-start. The Finn built his victory on a bold overtaking move at the first corner and was never headed – despite an intense battle behind him.
Sprint Race, the winner: Another debut win was taken, this time by Trident's Dorian Boccolacci. His team mate Ryan Tveter, who started from reverse pole, finished second after being overtaken on lap three.
PIRELLI QUOTE
Pirelli's head of car racing Mario Isola: "Tyre strategy was at the centre of the Formula 2 feature race, which was held in the evening under the lights. The GP3 race was a completely different challenge, all about making the soft tyres last in the heat of the day. It's been another thrilling season in which we've seen some very exciting races and talented drivers in both championships. We've also been privileged to enjoy another perfect collaboration with the series promoters, who once more have done a brilliant job this year."
NEXT RACES
Formula 2 will resume at the 2018 Bahrain Grand Prix Prix from April 7-8, with GP3 to restart at the Spanish Grand Prix from May 12-13 – although there is a busy schedule of testing planned before then: including sessions at Abu Dhabi this week.
source: pirelli.com
Read more at http://www.flagworld.com/news/2017/11/26/gp3-boccolacci-signs-off-with-maiden-win/#SWGslhWZSidwGpC2.99
Comments
comments