Interview: Norris on his 2017 Formula 3 title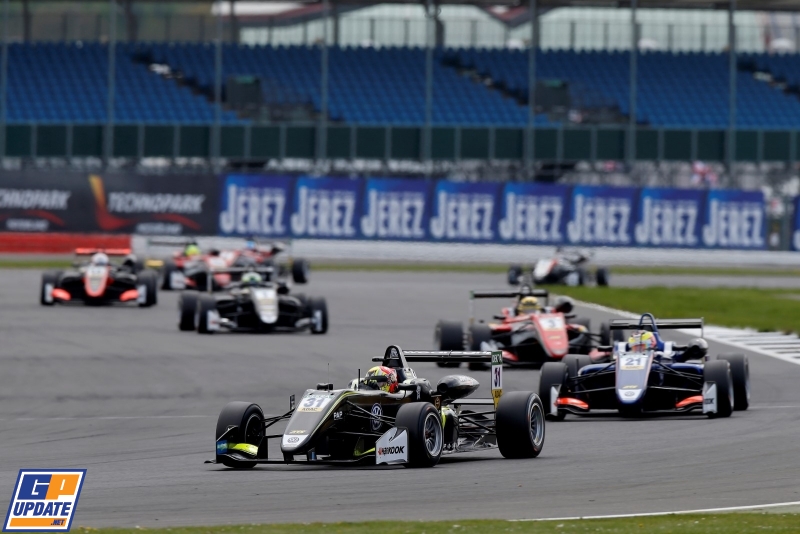 McLaren-backed Carlin driver Lando Norris stormed to this year's European Formula 3 Championship, taking eight pole positions and nine victories. GPUpdate.net caught up with the British 17-year-old for a round-by-round discussion of his campaign, and for his thoughts on the next step.
Silverstone
Race 1: 1st | Race 2: 9th | Race 3: 3rd
"The best thing from the weekend was the pace we had compared to Prema and the rest of the field. With Carlin not doing very well last season, we thought it would be tough to come back, especially going into the first weekend of the year. The pace was better than we thought, there was a point where we realised we had the pace to go for the championship win, probably."
Monza
Race 1: 1st | Race 2: 2nd | Race 3: 2nd 
Monza was definitely a good weekend, it was a good improvement from Silverstone. For the championship as well, it boosted me quite a few points. For the team, for Carlin it seemed to go very well. We worked very hard and maximised the straight-line speed. Myself and my team-mates, we had a really good balance for cornering as well, and it gave me a lot of confidence. We showed that we can win races and it boosted me a lot in the championship as well."
Pau
Race 1: 2nd | Race 2: 2nd | Race 3: DNF
"Initially going into the weekend it was difficult as I hadn't been there before, and a lot of other drivers had. It was quite difficult, as it's only in the first session that you kind of learn the track. In every session we improved, and then we went into Qualifying 2, and I got pole with an advantage of four-tenths. We had good pace in the races, but it's a difficult track to overtake on. In Race 3 the pace was just awesome, I was pulling away by half a second a lap or something, not taking many risks, and I was feeling very comfortable with the car. Then the suspension broke whilst leading, [Maximilian] Günther went on to win the race. That wasn't good."
Hungaroring
Race 1: 8th | Race 2: 14th | Race 3: 3rd
"The biggest thing was the qualifying pace. In Q1 the team made a mistake with the tyre pressures, which cost me a lot, basically. It wasn't a big amount out, it was a small amount, but it made a huge difference. It cost me in Race 1, as it is very difficult to overtake in Budapest. In Race 2 I stalled, fell back to last and in Race 3 I came home fourth. It was the only race where I had a decent qualifying, so if I hadn't stalled or the qualifying would've been dry on the Saturday, we would've had more podiums. They were a couple of mistakes which cost me a lot. I always want the best result and I always try my best. After a bad weekend you just want to try a bit harder so that in the next weekend, you don't do the same mistakes. It makes you push the team and yourself a bit more."
Norisring
Race 1: 11th | Race 2: 1st | Race 3: 3rd
"Norisring went very well actually, apart from Race 1, when I made a mistake where I took the leader out and myself, which allowed Günther to take the win – again. The pace was good all weekend, it was just a shame I had a penalty from the contact. It was pretty good, but again it could have been much better if I hadn't made the mistakes I made. And, again, Günther had the advantage of a mistake, he managed to get the win. It was a decent weekend, but I didn't think it was amazing.
Spa-Francorchamps
Race 1: 1st | Race 2: DNF | Race 3: 1st
"It would definitely have been nice to have three wins, Spa was our best shot. I was a bit disappointed to not have done it, but again – I made a mistake in Race 2, which took me out of the race. I kind of made a mistake which cost me a lot of points, I still did enough in all the other races to win the championship by quite a margin. In the end, it didn't matter. But I really like Spa, it's a good track, with good overtaking opportunities. I was happy about (two wins), as it's not an easy track. It made it special."
Hungaroring Formula 1 test
"I think it boosted me. Hearing what they all had to say gave me a lot of confidence. I could compare myself to Formula 1 drivers. The main thing was confidence; it was a very exciting day as well. But going into Zandvoort I already moved on."
Zandvoort
Race 1: 1st | Race 2: 3rd | Race 3: 1st
"The pace was really good, I could've won all three races. But with the mistake in qualifying for going too fast [under yellows], it led to a grid penalty, and I couldn't start from where I needed to."
Nürburging
Race 1: 1st | Race 2: 2nd | Race 3: 1st
"The weekend started off being very wet, and the pace and speed was amazing. I managed to win by a very big margin and the next races were very good with another win and a second. I wanted to have that third win but I ran out of time, I caught the leader with a lap or two to go. It was a fun race, with small margins, and every lap I could take [some time] out of him. It made it exciting as I had to drive perfectly. In general the weekend was very good as two wins and a second was very good for championship. It made it a nice cushion to have as with a 73-point gap, we definitely took a tiny bit of pressure off. I was surprised that Günther was off the pace, Prema was quite fast the year before, so either the car struggled in the wet, or he struggled in the wet. In terms of me extending the gap and the pace advantage we felt we had, it was big."
Red Bull Ring
Race 1: 4th | Race 2: 2nd | Race 3: DNF
"I wanted to go for the win, so that's the reason for what happened [in Race 3]. I didn't want to sit there and not do anything, that's a bit boring. I'm here to race and here to win. I want to have fun and attack, the pace was good enough to attempt a move. I didn't want to settle for second. In the end I was still in second, but that was a position where I shouldn't have been. It was my fault, damaging my front wing and putting myself in a position where I never should have been in. I kind of let the team down, because I wanted to win – not massively because I still got the chance to grab the championship. I wanted to race and not just sit behind and do nothing. I made it exciting. I would've done the same if the gap was only 5 points or so, I'm here to race. Why sit behind and just watch? I don't enjoy that. What excites me the most is fighting wheel-to-wheel like I did with Joel [Eriksson]. I made the contact, but the racing was cool. I enjoyed it until the accident. I would've done the same [again], because I want to win."
Hockenheimring
Race 1: 2nd | Race 2: 11th | Race 3: 4th
Initially it went well, second place in Race 1 was best. I had slightly better pace than Joel but I couldn't do anything to attack him as the pace was too similar to have an advantage. As a team, we struggled in qualifying as the track changed a lot, and that made the races tougher. In Race 2, I was running in sixth while braking for hairpin, the guys ahead braked very early, I tried to brake very late, and it caught me by surprise that everyone braked so early. I got off track, re-joined in 12th or 13th and could only manage to finish P11. Race 3 went pretty good, we had pretty good pace and made some moves that stuck. I tried a couple of times to attack [Guan Yu] Zhou but he had new tyres and I had old ones.
Plans for the future…
Macau Grand Prix, probable Formula 2 graduation and a likely McLaren Formula 1 reserve role
"My only plan for [the rest of] 2017 is Macau. I think I have two days or something in F3 preparing for Macau. Other than that it's quite quiet. I think I'm going to Brazil and Abu Dhabi, I'm not racing then. It doesn't conflict and it's genuinely a good thing to be around. For 2018, I'm still in talks, but it's probably going to be Formula 2. I don't know if McLaren wants me to win the championship or if they want it to be a learning year, but I'm quite likely to be in Formula 2."
Source :http://feeds.gpupdate.net
Comments
comments