STRONG RECOVERY PERFORMANCE ON THE STREETS OF ROME GOES UNREWARDED FOR MS&AD ANDRETTI FORMULA E TEAM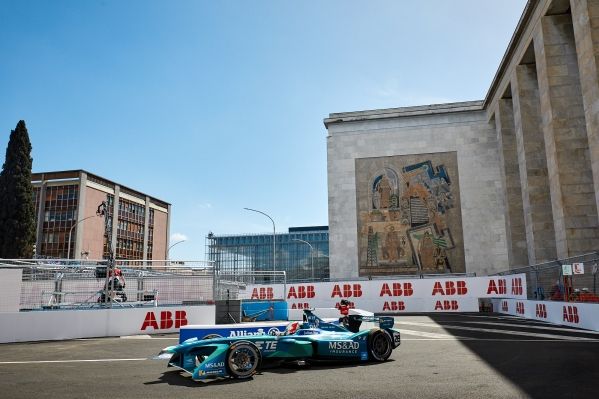 BMW works driver Félix da Costa (POR) put in an impressive recovery performance in the seventh race of the ABB FIA Formula E Championship in Rome (ITA). Watched by Klaus Fröhlich, Member of the Board of Management of BMW AG, Development and BMW Motorsport Director Jens Marquardt, the MS&AD Andretti Formula E team Portuguese driver fought his way up through the field after starting from last place on the grid. Félix da Costa reached the top-ten after his pit stop but fell back during the closing phase of the first Rome E-Prix, crossing the line in 11th place. After 33 laps, his team-mate Tom Blomqvist (GBR) finished in 15th position.
Félix da Costa had started the race from 20th place after an unfortunate collision during qualifying, while Blomqvist secured 12th position in the qualifying session. The next event is scheduled to take place in two weeks' time: the Paris E-Prix will be held in the French capital on 28th April.
Reactions on the Rome E-Prix
António Félix da Costa, MS&AD Andretti Formula E, 11th place: "It was a good recovery during the race after the incident in qualifying when we had to start the race from the very last position. We chose an aggressive strategy by doing a short first stint. I overtook a lot of cars and used the energy very well. We knew that the second stint would be hard because we had less energy than the others but we came home just short of scoring points in 11th. I think we showed that we had some potential to score some solid points this weekend. We take the positives and go to the next one."
Tom Blomqvist, MS&AD Andretti Formula E, 15th place: "It was a difficult race. I was hit from behind and spun around on the second lap which put me into last place. Then we ran out of energy on the last lap before coming in for the pit stop and got stuck in the pit lane. We lost a lot of time there. Basically from there the race was extremely compromised and it was pretty disappointing not being able to have a clean run. That would have been nice after a decent qualifying."
Source. BMW
Comments
comments