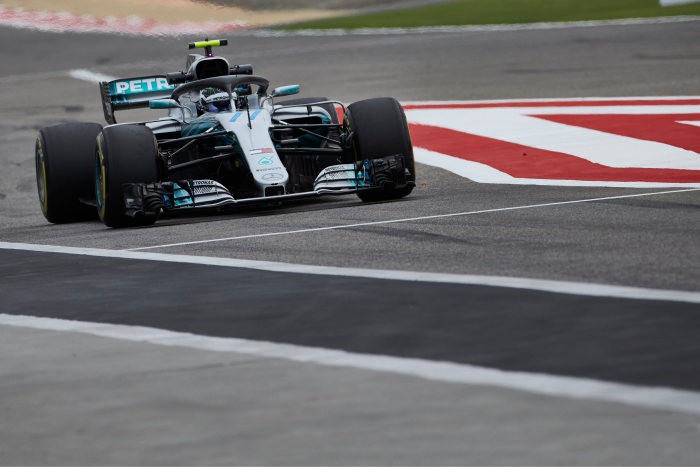 Mercedes-AMG Petronas Motorsport completes 108 laps on Friday of Bahrain
Valtteri ended the first session in P2 with Lewis in P5
Valtteri came in P3 in the evening session with Lewis in P4
Valtteri used the Soft compound tyres in FP1, Lewis ran the Medium (install) and Soft
In FP2, Valtteri ran the Soft and SuperSoft compound tyres with Lewis using the Medium and SuperSoft
Driver
Chassis No.
FP1
FP2
Valtteri Bottas
F1 W09 EQ Power+/03
24 Laps
1:31.364
P2
31 Laps
1:30.380
P3
Lewis Hamilton
F1 W09 EQ Power+/01
21 Laps
1:32.272
P5
32 Laps
1:30.472
P4
Valtteri Bottas
This weekend is difficult because the track improves so much from one session to another. We could already see it today, you feel more grip with every single lap and the car balance is changing so we always had to make estimates for the next session and the next runs. It will be the same for tomorrow. Our main goal today was to get the softer compounds to work. On the SuperSoft we did pretty much the same time as on the Soft, so getting the most out of that compound is the key thing for tomorrow. The car feels okay, but we still need to find some pace, especially for a single lap. So we still have some work to do.
Lewis Hamilton
It's been a normal Friday, we've got through all our programme. It looks very close between all the teams and we definitely have got some work to do to try and see if we can eke out to be ahead of the others. The tyres have felt the best they've felt here in years; very stable and with less degradation. The track is great and it's amazing at night-time. The hospitality here is really second to none, it's an enjoyable stay and a great place to work.
James Allison
Although we were untroubled by any reliability issues, and we ran through our programme as expected, it wasn't our best day from a performance point of view. We've got more to do overnight and in the session tomorrow to give us a car that will allow us to have a good fight in Qualifying and on Sunday. The base is okay but we have not yet found the sort of edge that we had in Melbourne.
Source : www.Mercedes-benz.com
Comments
comments