'The best thing that I can do is win' – Norris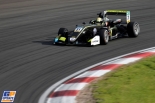 23 August 2017 – McLaren-backed youngster Lando Norris is taking Formula 3 by storm in his rookie campaign, having also received his maiden Formula 1 outing this season. GPUpdate.net caught up with the Briton.
It seems churlishly lazy to associate a young driver with the 'Formula 1's next big thing' tag, for the transient nature of single-seater championships means there is always someone picking up the trophies and the titles. Each year there are races to win, championships to secure across multiple divisions, and Formula 1 teams keep a watchful eye on the most impressive youngsters. However, in the case of Lando Norris, the suspenseful aura around the Briton has so far been justified.
Norris is only 17 but, to utilise another cliché, speaks with the maturity and experience of someone a decade older. He already has an illustrious CV, one to rival others who blitzed single-seater classes on their way to the top.
Norris won MSA Formula in 2015, and last year claimed titles in the Toyota Racing Series, Eurocup Formula Renault 2.0 and Formula Renault 2.0 NEC. He also took his first steps in a Formula 3 car, rising from 27th on the grid to 11th upon his first visit to Macau.
Norris committed full-time to the European Formula 3 Championship this season and with three rounds remaining sits atop the standings, with an 11-point lead over Maximilian Günther.
"It's been good, better than I thought I would go really," Norris explains to GPUpdate.net of his campaign so far.
"I think the team has done a very good job, we're performing much better than we thought we would, basically."
Norris has triumphed seven times from 21 races, an impressive feat considering his early-season struggles off the line – he was more Mark Webber than Fernando Alonso – and also cruelly missed out on victory at the Pau Grand Prix, when the suspension failed on his car. He is also aiming to break Prema's hegemony of the category, the Italian team having supplied the champion on each occasion since the series' rejuvenation in 2012.
"After the Norisring I was like 36 points [sic 38] behind, which is quite a bit, considering Günther was in the top 10 or scored points every single race, apart from one, and has obviously done a good job with that," he explains.
"I've 'DNFed' in three of them [but] I think when I haven't had a crash or something's gone wrong, we've generally been better.
"I've won the races, he's [Gunther] finished third or second. And when it's a good weekend we're much stronger than them I think, at Spa, at Zandvoort, I think in general we've been a bit stronger some of the weekends."
Norris has turned a 38-point deficit into an 11-point advantage but insists that he "still wants to win so I'll go for the lead when I can" and that there is "less pressure" being in front than playing catch-up. It is that mentality, and overall potential, that brought Norris to the attention of McLaren.
Norris was signed up to McLaren's young driver scheme at the start of the season, his diminutive figure and youth resembling the work experience kid rather than the team's brightest prospect. Norris' growing status within McLaren has led him to conduct F1 weekend duties in the simulator at Woking on a handful of occasions this year, a similar role to that held by Antonio Giovinazzi at Ferrari and Pierre Gasly at Red Bull.
Norris was informed around March that he would receive a run-out in the squad's current-spec Formula 1 car, the MCL32, at the Hungaroring. Robert Kubica, making his return on the same day, understandably captured widespread attention, but Norris' pace and application also caught the eye. Kubica stole the show, but Norris starred.
"I think it went very well actually, again slightly better than I expected," Norris explains.
"I felt more comfortable with the car, I was quicker than I thought I would be, I thought it would take a bit longer to feel comfortable basically and adapt to Formula 1.
"Budapest is high downforce, long high-speed corners, also temperature was 36/38°C, so it was very hot, so it was probably one of the most physical tracks – I haven't driven the others so it's hard to say – and a big step up from F3, but I think I coped well."
Norris set times comparable with those achieved by Stoffel Vandoorne a few days previously, and understandable hype trickled through the paddock that he could be among the front-runners in Formula 1 in the next few years. Has Norris allowed such thoughts to enter his mind?
"Not really… No. I think…," he says. "No. All my concentration is just on Formula 3.
"I'm just concentrating on what I need to concentrate on basically, I'm not always thinking, 'I need to do this, be in F1 next year,' or, 'this and be in F1 in two years', or something.
"The best thing that I can do is win, so that's all I need to concentrate on. It's going in the right direction, but I think the aim is to be two to three years [in Formula 1]. I'm probably not going to be Formula 1 next year, unless something suddenly appears."
All of the distinguished big-budget Formula 1 operations have young driver programmes in their quest to capture the next rising talent, and Norris believes his choice of linking up with McLaren will pay dividends, compared to joining a roster such as Red Bull's.
"The things they can offer [are] much better than what Red Bull would offer," he says.
"Red Bull is much more of a one-sided contract, unless you're very good like [Max] Verstappen, he could maybe make a few more choices in what he wanted to do as he's such a good driver, more choices about his contract.
"Red Bull have a lot of drivers, and they give them more of a chance to be on the programme and perform, whereas McLaren would support me in a lot more ways, and obviously it's only really three drivers on the programme which they concentrate a lot on.
"Something like Red Bull, they have a few more, and I don't think it's as focused on trying to develop the driver as what McLaren could offer, basically."
As the summer months edge towards autumn, attention inescapably turns to next year, with Norris commenting that Formula 2, which will use a new car in 2018, is his likely destination.
"It's that or Super Formula… we haven't decided to just go down the F2 route yet, it also depends on what McLaren want, and if I win this [Formula 3]," he explains.
"And as soon as it's more realistic that I'm going to be winning this, or after the last race, straight away we'll talk more about what we want to do next year.
"A lot depends on this season, if I don't do well… unlikely, but it might be another year of F3.
"They put Stoffel [Vandoorne] in Super Formula, so it could be Super Formula, but it's definitely more between Super Formula and F2, and I think F2 is the more likely option."
With still a couple of months to go until his 18th birthday, an F1 test under his belt, and a Formula 2 move on the cards, the world of motorsport needs to keep an eye on Norris…
Source :http://feeds.gpupdate.net
Comments
comments