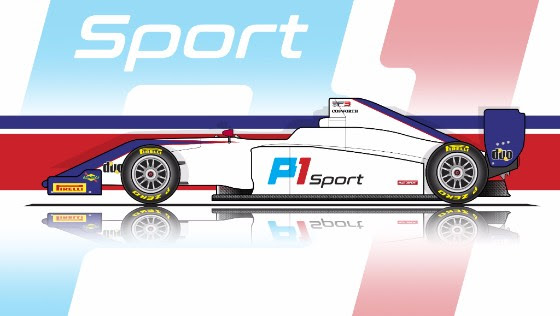 P1 Sport, who ran Giedo Van Der Garde to the 2008 Formula Renault 3.5 title, will make its return to front-line racing by entering the UK's premier single-seater category, the BRDC British Formula 3 Championship, it has been announced today (14 October).
The team, which is led by vastly experienced motorsport professional Roly Vincini, has been targeting a return to single-seater racing after stepping back from its Formula Renault 3.5 commitments in 2013, and believes that British Formula 3 is the perfect championship in which to do so.
P1 Sport is no stranger to the British Formula 3 category, having entered the championship in 1992 running under the P1 Racing banner. After a hiatus, the team returned in 2003 as P1 Motorsport and ran Adam Carroll to five victories the following year, as the Northern Irishman finished as runner-up to Nelson Piquet Jr. The Norfolk-based outfit tasted Formula Renault 3.5 glory in 2008 before taking a break from racing in 2013, but will now make its return to motorsport in next year's BRDC British F3 Championship.
P1 Sport has purchased three cars from HHC Motorsport, which is focusing its efforts on potential British GT or LMP3 sportscar programmes for 2017, as the squad looks to shift its ambitions to racing at Le Mans in the near future. The Harrogate-based team claimed multiple podium finishes in BRDC British Formula 3 this year with Ben Hingeley and Harrison Scott taking to the rostrum throughout the season.
Vincini said: "It is great to announce our return to front line motorsport and we think the BRDC British F3 Championship is the perfect category in which to do so. The team has been extremely successful in single-seaters, most notably in Formula Renault 3.5, and we can't wait to get out on track and continue that form in the UK's leading single-seater series."
Charlie Kemp, Commercial Director of HHC Motorsport, commented: "It is with regret that we have to end our participation in BRDC British Formula 3 but, owing to our new sportscar programme, we need to focus our resources on that at the present time. We have enjoyed great success in British F3, and of course in its previous incarnation as BRDC Formula 4, and we are sure that P1 Motorsport will continue that trend in to 2017 and beyond."
Comments
comments