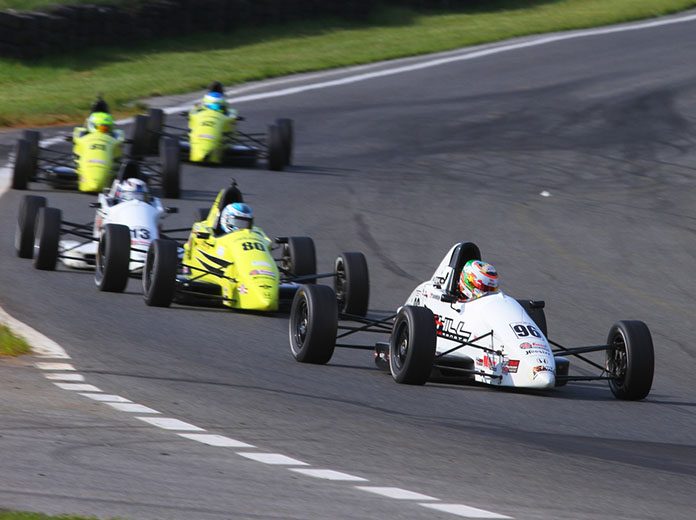 Zach Holden (96) won a pair of F1600 races Sunday at Summit Point Motorsports Park.
SUMMIT POINT, W.Va. – Zach Holden closed out the weekend at Summit Point Motorsports Park with a dominating victory in the third and final F1600 Championship Series race of the event on the 10-turn course.
Holden swept both Sunday races for K-Hill Motorsports, with two wins in the No. 96 Mygale/Honda. Both races were run flag-to-flag in competitive all-green-flag conditions.
Matthew Cowley finished second for Team Pelfrey and Yuven Sundaramoorthy was third in a second K-Hill car in the 23-lap race.
"It was a good Sunday, I'm happy with how it turned out. I saw battling behind me, looked in my mirrors and knew I had to set consistent fast laps," Holden said.
Brandon Dixon won Sunday's F2000 Championship Series race at Summit Point, inheriting the lead on lap 10 as Tim Minor retired after dominating the early stages of the race from pole.
Dixon took his third win of the season, adding to his championship lead with only two races remaining on the schedule. Tim Paul and Steve Jenks completed the podium.
"The weekend ended much better than yesterday," Dixon said. "That was just not my day but we got everything to line up today. The start was pretty exciting. Steve and I spent a fair bit of that lap side-by-side. We turned into turn three together. I kept Tim (Minor) in my sights but I didn't have any pace for him. I don't know what happened to him but after that it was about hitting all my marks and trying to keep the pace up."
David Grant won the 12th round of the Atlantic Championship Series season, which was also held Sunday at Summit Point.
Grant executed a move on the first lap of the race to take the lead, charging to victory in the No. 29 Polestar Racing Group Swift 016/Mazda. Grant triumphed over Saturday winner Peter Portante, from K-Hill Motorsports, who finished second by less than a second.
Keith Grant moved through the field from deep in the pack to finish third and John Burke won the Masters Class.
"Peter kept the pressure on, it was a great run. The Polestar car was great today. The car was on rails the entire race. The gaps were consistent and I knew I couldn't put a tire off, Peter kept the pressure on and it was a fun race," David Grant said.
Source : speedsport.com
Comments
comments