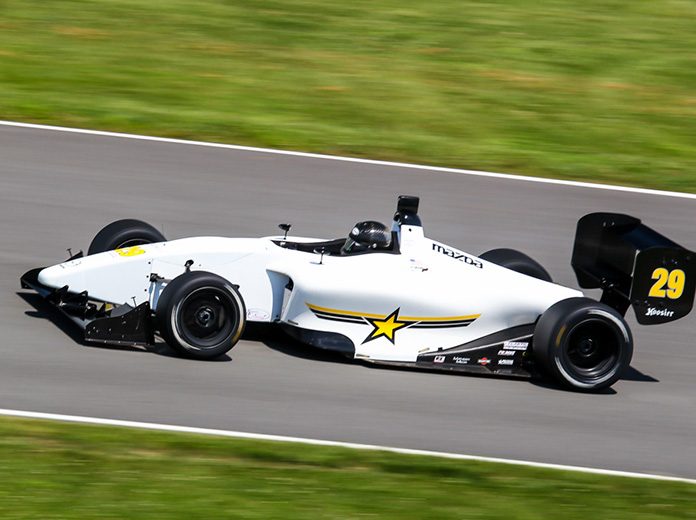 David Grant raced to victory in Sunday's Atlantic Championship Series race at the Pittsburgh Int'l Race Complex.
WAMPUM, Pa. – David Grant went flag-to-flag to comfortably win Sunday's Atlantic Championship Series event at the Pittsburgh Int'l Race Complex.
Joining Grant in victory lane were Brandon Dixon in the F2000 Championship Series and Jonathan Kotyk, who won a pair of F1600 Championship Series races on Sunday.
Piloting the No. 29 Polestar Racing Group Swift 016/Mazda, Grant took his second win in three races. K-Hill's Peter Portante and Comprent's Richard Zober matched their Saturday performances by finishing second and third.
"It was a tough start yesterday," Grant said. "We had a great car yesterday and a mechanical issue got us, that is just part of the game. The car was perfect all day. It was great this morning and I got the one lap I needed for pole. It was even better this afternoon with the heat."
Dixon denied Steve Jenks his first F2000 Championship Series victory, passing Jenks on lap six and taking the victory. Dixon's win extended his championship lead as Saturday winner Tim Minor finished second for Ski Motorsports.
Tim Paul ran as high as second and completed the podium in third for R-Sport in the No. 6. Jenks started from pole but eventually retired with a mechanical issue.
"This was a great race for me and a great end to what has been a challenging weekend. I need to thank the guys that come and help me. We busted our butts this weekend," Dixon said.
Team Pelfrey's Jonathan Kotyk, a Team USA Scholarship candidate, doubled up with a pair of F1600 victories on Sunday to compliment his victory on Saturday.
In the Sunday morning race, Kotyk fought off his teammate on the 16th and final lap, beating points leader Matthew Cowley to the line by .054 of a second in a photo finish.  The afternoon race was even more dramatic, with Kotyk beating his Team Pelfrey teammate Matthew Cowley to the finish by just .034 of a second.
"I couldn't ask for a better weekend, it's my first sweep and I can't thank Team Pelfrey and Gap Guard enough," said Kotyk. "I had a really good run coming out of the final corner and I wanted to make sure to position the car well. Matthew was making it tough, but it was a good race."
Source : speedsport.com
Comments
comments