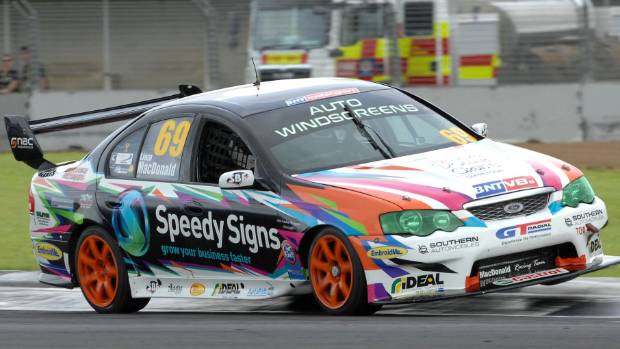 Invercargill racing driver Liam MacDonald has scored another round win in Class 2 of the BNT V8's Championship at Bruce McLaren Motorsport Park in Taupo this weekend.
However, to do so, he had to overcome a fuel problem in the opening race of the round on Saturday, which dropped him down the order late in the race. MacDonald bounced back in Sunday's races to record a win on Sunday morning before a second place in the third and final race of the round later in the day.
The weekend began well when the young Southlander took pole position in the Ford Falcon on Saturday, from Nick Farrier of Pukekohe and Matt Podjrsky from Inglewood.
He then led the first race until three laps from home when the fuel issue intervened, slowing the Falcon and dropping him to 4th place at the chequered flag. Chelsea Herbert went on to take her maiden win in the race.
MacDonald overcame his woes on Sunday morning to win from Farrier and Aucklander Brock Timperley, before going on to take second behind Timperley in the third and final race. The results gave him the round win and extended his lead in the championship.
"It was great to overcome the problems we had on Saturday and come back and win the round," MacDonald said.
Meanwhile, in racing at Teretonga Park in Invercargill over the weekend, in the South Island Formula 1600 races Bailey Paterson of Christchurch won the round from Kurt Peterson of Auckland and Robert Toshach of Christchurch.
Sam Wallace of Christchurch crossed the line in the lead of all three Pro 7 Saloon races only to incur a ten second penalty in the first which dropped him to fourth. However he still did enough to win the round from fellow Cantabrians Hunter Rowland and Toby Marsh.
Paul Clarke of Mosgiel just managed to head off Corey Ross by one point to win the round in the Pre 65 Saloons with Wayne Tuffley of Invercargill third.
Dion Dawson of Invercargill in a Saker GT won the first two Noel McIntyre Drainage Clubmans Saloon races from Brian Scott of Dunedin in a C5 Corvette.
However, Scott did not start the class race and Dawson retired, leaving victory to his brother Kyle Dawson in a Nissan Skyline.
Kyle Dawson also won Class 4 while other class winners were Todd Blackmun in Class 1 (Star Car), Bradley Dawson, Class 2 (Toyota Trueno), and Dave McLean of Gore, Class 3 in his Honda Integra.
Dion Dawson returned to win the Flying Farewell, but it was Kyle Dawson who was overall winner on the day from Jeremy Dawson (Chev Camaro) and Blackmun.
Source :Stuff.co.nz
Comments
comments