RNW Exclusive – Alex Labbé Interview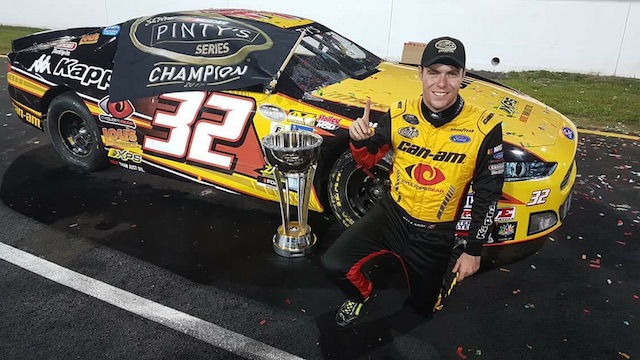 After a successful karting career, Alex Labbé eventually began competing in the NASCAR Pinty's series. Following a great first Pinty's season in 2016, Labbé returned with a vengeance in 2017 and took home the championship with five race wins and two more podium finishes. This year, he is competing full time in the NASCAR Xfinity series. Four races into his rookie season, he is fifteenth out of over forty drivers. As the first Canadian driver from Quebec to compete in the Xfinity series, we are very pleased to have had the opportunity to chat with Alex and get a glimpse at what it takes to compete in NASCAR.
Charles Côté, editor in chief of RNW, recently had the pleasure of conducting an interview with Alex. Here's what he had to say:
Charles Côté: Thank you, Alex, for participating in this interview. Like many aspiring racing drivers, you started in karting. When did you first realize that you had a real shot at becoming a professional racing driver?
Alex Labbé: I've always wanted to be a professional race car driver. I knew that if I could catch a brake and get the right opportunity, I would have a really good chance to make a statement. I think I've always pushed my equipment the maximum and I knew what kind of speed I had as a driver compared to the people I was racing.
C.C: Following a successful 2016 NASCAR Pinty's Series, finishing in 7th, you took home the championship win in 2017. After six years in this series, can you describe to us what you felt at the time?
A.L: 2016 was my first full time season in Pinty's. The previous years, I only participated in 2 to 4 races. We had been working really hard since 2012 to make it happen in order to have a shot at running full-time. 2016 was disappointing for us. Although we showed a lot of speed throughout the whole year, we were really unlucky, especially in the last half of the season.
C.C: In 2016 and 2017, you participated in a total of 3 races in the NASCAR Xfinity Series. What changes did you have to make to your driving style to adapt to this new series?
A.L: For sure, there are a lot changes you have to make to adapt from short track racing to a series like XFinity. You got to drive harder every lap since you have a lot more sets of tires in the pits and you must learn to keep the momentum because you run on tracks over 1 mile long.
C.C: AM Prime Racing president, Alain Lord Mounir, told you in 2017 that if you won the Pinty's championship, he would let you race full time in the Xfinity Series in 2018. Did this promise play a big role in you winning the championship?
A.L: Yes and no. Although it did give me an added motivation, I consider myself to be pretty self-motivated. I know what I can do and I always put a lot of pressure on myself to make the best out of every opportunity I get. Finishing 2nd was not an option for me last year.
C.C: In 2018, you became the first ever driver from Quebec to race full time in the NASCAR Xfinity Series. This must of been a very special moment for you. Do you think we will see more Quebec stock car drivers ascend to top NASCAR series in the future?
A.L: Yes, definitely! I hear about a lot more young talents that have had impressive karting careers that want to make the transition to stock-car racing. I've followed that same path and it's fun to know that I have, in some ways, led the way for the new generation. Back in my days, everybody following karting were dreaming about open-wheel series while Stock-Car racing wasn't really an option.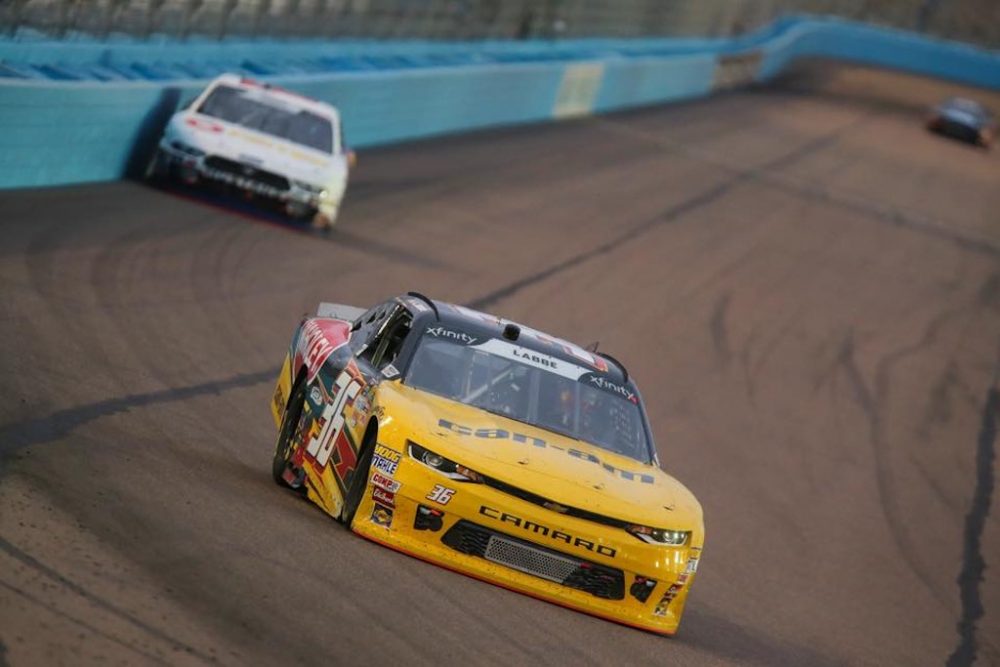 C.C: Your first race of the season at Daytona was quite interesting. Multiple crashes and restarts put you in a position to finish in the top 10. However, you ran out of fuel before the end of the race. Your teammate, Josh Williams, had to push you back to the pits to get more fuel to finish the race. You ended up finishing in 24th. How does it feel to lose out on a top 10 finish due to such a large amount of race restarts?
A.L: Daytona was certainly a tough break. We had managed our race perfectly and put ourselves in a solid place to get a top-10 there in the last 3-4 GWC. It was heartbreaking but we still managed to bring the car back in one piece and finished in 24th. It could of been much worse.
C.C: Your second race was at Atlanta Speedway. Compared to Daytona, this was a much less chaotic race. You managed to stay in the top 20 for most of the race and finished 18th. What is your goal for next race?
A.L: Atlanta was a solid run for our team. This was the first big challenge for us since it was on a 1.5 mile track. We had good speed throughout the race and finished in 18th place. We know that we still have a lot of place for improvement and this is motivating us.
C.C: You are already 3 races into the 2018 season. What track do you look forwards to racing at the most and which track are you the most worried about?
A.L: There is no particular track I am looking forwards to more than the others. I like the weekly challenges of being on a new track every week.
C.C: In your opinion, what are some of the most important attributes that are needed to become a successful NASCAR driver?
A.L: To be a successful driver, you have to believe in your capabilities and follow your dream. You will be discouraged at some points during your career while listening to what others have to say about you, but you can't let them get into your head. Do your thing, be in control when you're in the car, keep your head cool and race the track as hard as you can!
C.C: What is your ultimate goal as a professional racing driver?
A.L: My ultimate goal would certainly be to run in the Monster Energy Cup full-time.
C.C: From myself and the team at Racing News Worldwide, we would like to wish you all the best for the rest of the 2018 NASCAR Xfinity series. We look forwards to your next race! Would you like to take this opportunity to thank anyone in particular?
A.L: Thank you! I would like to thank everybody that have been behind me through my whole career. I have a really tight family and most of them have been at the race track every week, my friends that helped me through my short track years on my race team, Alain Lord Mounir for believeing in me, Dave Jacombs for giving me my first shot on an oval in the Pinty's Series, the Larue brothers who let me run their late model for over 5 years, my Mom and Dad who've been behind me since day 1 and will always be. Mario Gosselin who's been a huge part of my career, he's helped me grow as a driver, driving and understanding the car, he puts so much effort in our program this year and every time he has been a part of my racing program. It's been a great journey and I'm sure the best is yet to come!!
Alex's next race is Saturday March 17th at the Auto Club Speedway in Fontana California.
For more information on Alex and NASCAR Xfinity, follow the link below.
https://www.nascar.com/standings/xfinity-series/
Comments
comments