Marcus Armstrong aiming to shine in TRS to drive home Formula One dream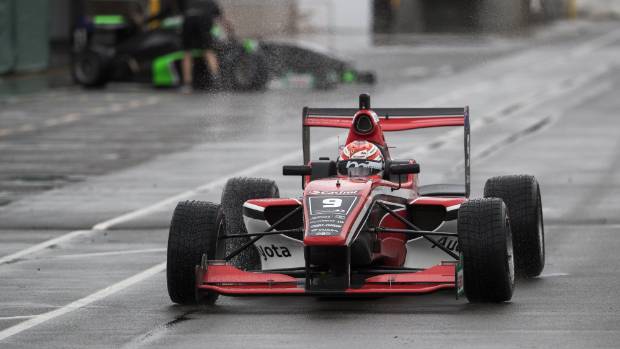 Brendon Hartley's breakout season in Formula One is further igniting the fire that burns deep within Marcus Armstrong.
Armstrong, 17, is back home from his base in Maranello, Italy to right the wrongs of 12 months ago in the 2018 Castrol Toyota Racing Series (TRS).
Armstrong, formerly of Christchurch, is one of the leading chances and has qualified fourth for Saturday's opening race at Mike Pero Motorsport Park on Saturday.
Armstrong will speed down the Ruapuna front straight at approximately 230km per hour in a field of 13 drivers – made up of some of the most promising young talent from around the world.
It is the opening leg of the five-round series that runs over consecutive weeks at Ruapuna, Teretonga, Hampton Downs, Taupo and Manfeild.
For Armstrong, it's another stepping stone towards his ultimate dream of Formula One.
Armstrong was on the same flight back to New Zealand as Hartley – the Kiwi who made his Formula One debut in 2017 and has booked a full-time drive for 2018 with Toro Rosso – before Christmas but he really wants to share a racetrack with the 28-year-old Hartley in the pinnacle of world motorsport.
"It definitely adds to the motivation to see a Kiwi in there performing like Brendon is," Armstrong said.
Armstrong, a member of the Ferrari Driver Academy, has been aiming for Formula One since the age of five. He would get up in the middle of the night to watch his heroes race on the most famous racing circuits on the planet.
Twelve years later, Armstrong has driven on most of those circuits.
The Formula One dream is still a long way off but it is a lot closer thanks to a hugely successful 2017.
Fresh from winning the Italian F4 title and being a close second in the German F4 Championship when driving for team Prema, Armstrong has already been confirmed to continue his association with Prema in the FIA Formula 3 European Championship when he returns to Europe.
They are not well-known championships in New Zealand but they are a big deal in Europe.
Armstrong's aim is to impress in F3 in 2018 and advance to F2 – one of the final hurdles before Formula One.
But the unassuming Armstrong takes nothing for granted. If his success slows, the opportunities cease.
Winning the Italian F4 was huge but the celebrations did not last long.
"As soon as something like that happens you are already thinking about what is next."
That's why his focus is now firmly on becoming the first Kiwi to win the TRS since Nick Cassidy went back-to-back in 2012-13.
By his own admission, Armstrong pushed too hard in last year's series.
He feels he was one of, if not the, fastest drivers in the TRS but consistently let the then 16-year-old down in his first campaign in a single seater.
His lap times back that up, as do his three race wins, but pushing hard to win every race can create mistakes and in 2017 it did.
"I definitely feel as though I've grown a lot since then," Armstrong said.
The more experienced Armstrong is now focussed on winning the series rather than winning every race.
He will be joined by three fellow Kiwi drivers in 2018, Brendon Leitch (Cromwell), Ryan Yardley (Christchurch) and Reid Harker (Auckland).
Leitch, who has been competing in the US Formula 4 Championship, was third in the TRS last season. For Yardley, 2018 will be his first foray into the series after winning the Toyota 86 Championship last season. Harker finished second behind Yardley in that same series.
The home track advantage is not huge for Armstrong – drivers see so many tracks they pick them up quickly – but driving at home in front of family is.
When you live on the other side of the globe that doesn't happen.
The TRS series takes place in the European winter making it the ideal location and timeframe to attract drivers from the Northern Hemisphere.
"Even if I wasn't a Kiwi I would probably still be here because it's such a good opportunity to get your mileage up," Armstrong said.
The purpose-built carbon fibre chassis with a 1.8-litre four-cylinder engine used in the TRS are identical.
Source :Stuff.co.nz
Comments
comments