RICHIE MORRIS RACING PARTNERS WITH AMERICAN HONDA FOR THE 2016 AMA PRO FLAT TRACK SEASON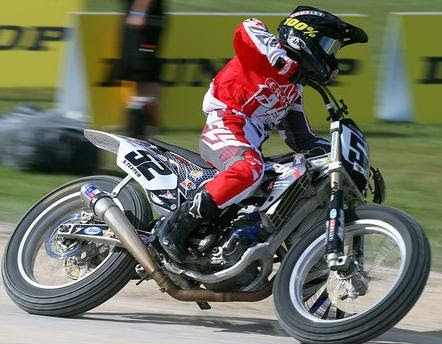 Richie Morris Racing has partnered with American Honda for the 2016 AMA Pro Flat Track Season with rider Shayna Texter, who will compete on the Honda CRF 450R at all events requiring riders to preform on single cylinder motorcycles.
For team principal Richie Morris, the opportunity to partner with American Honda couldn't have come at a better time.
"It's truly an honor to have RMR associated with American Honda," said team owner Richie Morris. "I've watched them compete for wins and championships at the highest levels of motorcycle racing. For our team to have the opportunity to be a part of that excellence is beyond exciting."
While the partnership with American Honda is new for Morris, his rider Shayna Texter will be right at home on the 2016 Honda CRF 450R throughout the AMA Pro Flat Track Campaign.
"I've ridden the DFW backed Honda 450 for some time now," said Texter. "The bike is definitely my weapon of choice and to have the support of American Honda is an honor and it truly brings our program to a whole new level."
Honda's senior manager of powersports marketing Mike Snyder shared in the team's excitement saying: "We are happy to be working with RMR and Shayna Texter in 2016, and we look for some great results. Honda has a proud history with flat track racing and we feel that the time is right to get back in."
The 2016 AMA Pro Flat Track season gets underway March 10-11 at the Daytona Flat Track at the World Center of Racing in Daytona Beach, FL.
Richie Morris Racing
Richie Morris Racing (RMR) is a professional race team that has competed at the highest level of motorcycle racing in many different genres. RMR has won four national championships in AMA Pro Road Racing, scoring numerous wins and podium finishes with some of the best professional riders in the sport. Our mission is to build a solid platform to win races and championships, delivering maximum value to our partners and riders.