Sri Lanka's Eshan Pieris Sweeps Up First F4 SEA Win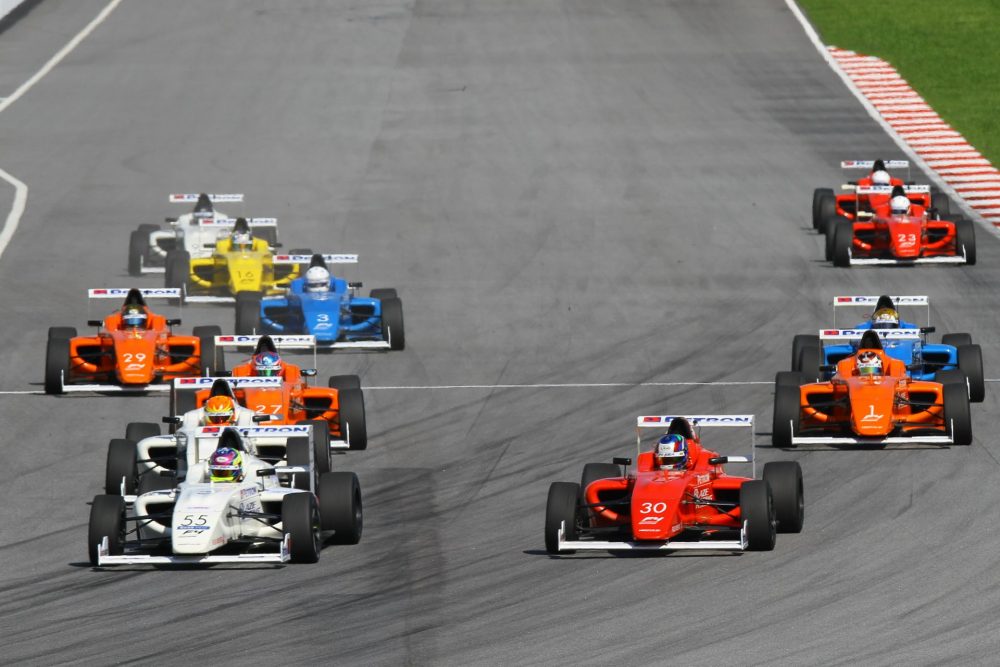 The 2017-18 FIA Formula 4 South East Asia Championship (F4 SEA) – fuelled by Petron, witnessed Eshan Pieris' first ever win for Sri Lanka at the Sepang International Circuit as the contingent supported the Asian Le Man Endurance Series.
After an intense battle in Race 2 of the penultimate event, the 20-year-old Colombo-native stood atop the podium while the Sri Lankan Matha played proudly overhead. Eshan basked humbly in the glory of his maiden victory of the Championship.
Eshan was poised to be the front runner of the FIA-certified Championship, as he was fastest in official free practise and snatched up pole position in qualifying. This boosted his drive to succeed.
Launched off the grid perfectly behind two-time Event Champion Daniel Cao in the event's second race, the Sri Lankan threw down the hammer and quickly stole pole position away from Cao, who then subsequently piled on the pressure.
Despite this, Eshan consistently pulled away from Cao and widened the gap till the chequered flag waved him the race victor in a very strong grid.  Eshan beat tough competition from undefeated Rookie Event Champion Kane Shepherd, Okinawan lightning bolt, Hibiki Taira and Event Champion Mitchell Cheah of Malaysia.
Apart from securing the podium in Race 2, Eshan also clocked the fastest time of the eight-lap scrimmage. He was the only one to break the 2-minute 14-second mark in the race. His blistering performance ensured him a lead of almost five seconds.
"After being fastest on track during the free practice, I was really motivated to put it back on top at the end of qualifying. I really just focused on hitting all my markers on track and not making any mistakes throughout the laps in qualifying.
In Race 2 I started in P2 and took the lead on the 2nd lap of the race into Turn 4 and thereafter I just focused on maintaining my rhythm throughout the race. However my biggest concern was tyre conservation. Just like Formula One, managing tyre wear is crucial," explained the Colombo-native.
Despite some of the setbacks Eshan faced over the course of the weekend, he kept up his spirits and held his head high, determined to always do better next time.
"For sure the win in Race 2 felt really great since it was only my second event ever in formula cars and compared to the other drivers on the grid I have a lot less experience. I am really happy to have already bagged my first win," concluded Eshan.
Source: The Formula 4 South East Asia Championship (F4 SEA)
Comments
comments