Mick Schumacher has a perfect weekend, 3 poles, 3 wins!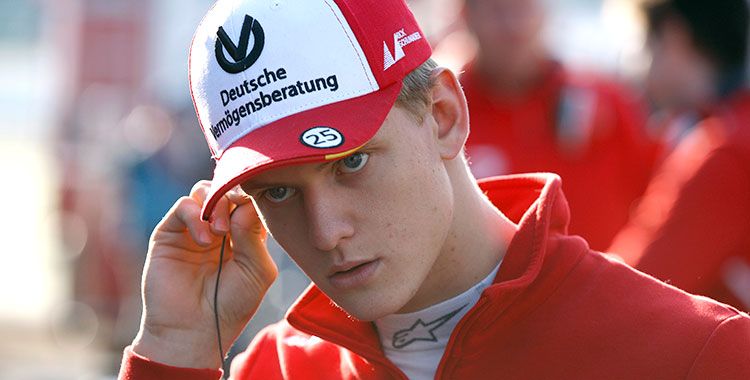 After having a rough start to his second season in the European F3 championship with Prema, Mick seems to have found the speed to battle for the win having had a perfect weekend with 3 poles and 3 dominant wins even after restarts under the yellow flag.
With these 3 back to back wins this puts Mick just 3 points behind championship leader Dan Ticktum and with 6 races left if Mick continues to dominate the races he will easily take the overall points win.


Schumacher has tested a DTM last week but insisted it was just a test he is now in talks to move up to F2 for the 2019 season.
Drivers championship
PAU
HUN
NOR
ZAN
SPA
SIL
MIS
NUR
SPI
HOC
Pos
Driver
Points
1
2
3
4
5
6
7
8
9
10
11
12
13
14
15
16
17
18
19
20
21
22
23
24
25
26
27
28
29
30
1
Ticktum
264
15
–
5
25
–
18
12
–
25
10
8
–
–
25
10
25
4
8
8
12
12
15
15
12
–
–
–
–
–
–
2
Schumacher
261
–
1
3
12
6
15
10
2
–
15
–
–
12
–
25
–
25
10
25
15
10
25
25
25
–
–
–
–
–
–
3
Armstrong
220
10
15
–
–
18
–
25
18
15
12
18
–
–
8
15
8
10
–
18
–
–
8
12
10
–
–
–
–
–
–
4
Vips
218
1
–
–
8
–
12
6
25
18
8
4
–
8
–
12
12
18
25
10
25
18
–
–
8
–
–
–
–
–
–
5
Aron
207,5
18
4
12,5
10
–
6
18
8
25
25
–
15
–
–
–
1
–
6
10
25
10
10
4
–
–
–
–
–
–
6
Shvartzman
183
4
2
4
15
10
–
8
–
6
4
6
–
10
12
18
4
2
1
15
2
6
18
18
18
–
–
–
–
–
–
7
Ahmed
168
8
10
9
6
25
25
–
4
–
–
1
–
10
8
15
12
12
–
8
1
12
–
2
–
–
–
–
–
–
8
Zhou
165
25
–
–
18
12
10
2
–
12
18
15
18
–
–
–
–
8
4
12
–
–
6
4
1
–
–
–
–
–
–
9
Palou
157
6
18
–
–
15
–
12
–
1
12
8
18
–
2
6
–
6
4
18
8
–
8
15
–
–
–
–
–
–
10
Daruvala
117,5
–
8
7,5
–
8
–
15
8
10
–
–
15
25
15
–
2
–
–
2
–
2
–
–
–
–
–
–
–
–
–
11
Fenestraz
115
12
25
–
4
2
8
–
4
–
–
–
–
–
6
–
18
6
18
–
4
–
–
2
6
–
–
–
–
–
–
12
Aberdein
73
–
–
2
–
–
4
–
–
–
6
–
4
–
2
6
10
15
15
1
–
–
2
6
–
–
–
–
–
–
–
13
Habsburg
57
–
–
–
–
4
–
–
10
2
–
10
6
–
1
–
–
–
2
–
6
15
–
1
–
–
–
–
–
–
–
14
Scherer
48
–
–
6
1
–
1
–
1
–
–
2
10
2
18
1
1
–
–
–
1
4
–
–
–
–
–
–
–
–
–
15
Sato
31,5
2
–
0,5
–
–
–
4
6
–
–
1
12
6
–
–
–
–
–
–
–
–
–
–
–
–
–
–
–
–
–
16
Troitckii
31
–
–
–
–
2
–
–
–
–
–
25
–
4
–
–
–
–
–
–
–
–
–
–
–
–
–
–
–
–
17
Hingeley
22
–
12
1
2
1
–
–
–
–
2
–
–
–
–
–
–
–
–
–
–
–
4
–
–
–
–
–
–
–
–
18
Andres
18
–
–
–
–
–
1
15
–
–
–
–
1
–
–
–
–
–
–
–
–
1
–
–
–
–
–
–
–
–
19
Hanses
6
–
6
–
–
–
–
–
–
–
–
–
–
–
–
–
–
–
–
–
–
–
–
–
–
–
–
–
–
–
–
20
Petrov
6
–
–
–
–
–
–
–
–
–
–
–
2
4
–
–
–
–
–
–
–
–
–
–
–
–
–
–
–
–
–
21
Fernandez
5
–
–
–
–
–
–
–
–
1
–
–
–
–
–
4
–
–
–
–
–
–
–
–
–
–
–
–
–
–
–
Comments
comments